Gold Belle Mine and Milling Co.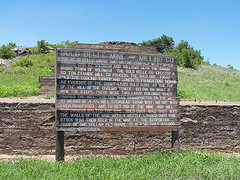 Gold Belle Mine and Milling Co.
Gold Belle Mine and Milling Co.
The Gold Belle Mining and Milling Company was formed around 1900 by Wildmand and Williams near the rough mining town of Wildman. The Gold Belle Co. erected a 50 tone cyanide mill to process the gold ore. Today on the cooling tower and concrete foundation remain as evidence of the short-lived gold rush. At the top of the hill is the cooling tower. Below on what is not the steps, there were two large building which housed the mill. The ore was transported to the mill by means of a 1/4 mile overhead tram-way. No ore was ever processed and to get rid of the mine and mill the owners salted the mine. Gold dust was got into the walls of the mine with a muzzle loaded shot gun. Stock was then sold in the mine at the reported price of one dollar per share. It is said that 270,000 shares where sold.
Directions
South of Roosevelt, Oklahoma on US 183. About 5 miles take first right after Glen Creek bridge (N2250 Rd), take first right again, Gold Belle Mine is right in front of you.
Regions
Maps
Links:
Pictures:
above pictures provided by blackiron_1 on Flickr