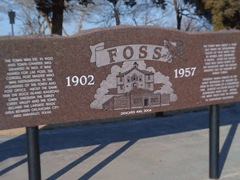 Foss
The town was est. in 1900 and town charter was granted in 1901. It was named for the Cordell post master who was instrumental in the founding of the town and post office. About the same time the Rock Island Railroad came through the Turkey Creek valley and the town became the largest trade area between Oklahoma City and Amarillo, Texas.

Baptist Church
Organized in 1900 and built in 1902 by subscription and donated labor at a cost of $2000. It was recalled that a saloon operation wanted to donate money to help build the church, one member objected and said it was blood money. Another member said he believed the Lord could use the money better than the devil - so the money was accepted. The stone used was quarried east of Foss. The bell tower was dismantled in WW II and the metal was used for the war effort. This church is the oldest active church in Western Oklahoma.

Temple Building
The Temple Building was built in the early 1900's. It was the hub of the business community. It housed the First State Bank, US Post Office, as well as various businesses, lodges and apartments. The building was in existence for nearly 80 years before it burned in April 1982.

Shortly after the Cheyenne-Arapaho Country was opened for settlement in 1892, families banded together for protection from the Indians before the town was established.

Wherever white man went, a school house followed. Records indicate the first school was taught in a dugout located just south of Turkey Creek and west of Sand Creek. This was a subscription type school with about 10 children in attendance. By 1895, a 12X14 one room box type school was built. In 1900 school was being held in various locations with 100 in attendance. In 1902 a two-story building was erected northwest of the present Baptist Church. The expanded to a 6 room school in 1908 using native red rock quarried 2 miles east of Foss. This building stood until 1923 when the new and last building was built of modern brick design. It was located at the top of the hill on the north side of town, still known as "School House Hill". The building was used until lack of students forced the closings in 1957.
Directions
Take Exit 54 on I-40, turn North for about one mile and turn Right on 1st Street. Marker is about one block east on the top of the hill next to the water tower.
Regions
Maps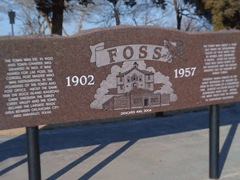 More Pictures:


* Images courtesy of James Corbridge (okghosttowns.us)
Google Maps Street View:

View Larger Map