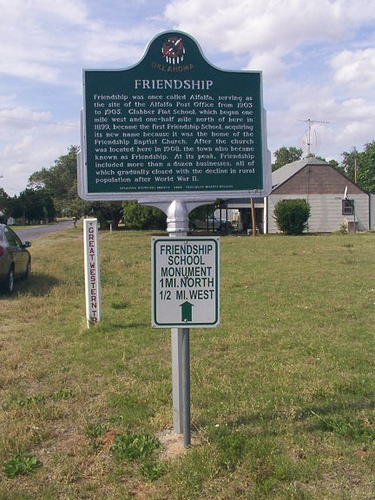 Friendship
Friendship

Friendship was once called Alfalfa, serving as the site of the Alfalfa Post Office from 1903 to 1905. Clabber Flat School, which began one mile west and one-half mile north of here in 1899, became the first Friendship School, acquiring its new name because it was the home of the Friendship Baptist Church. After the church was located here in 1908, the town also became known as Friendship. At its peak, Friendship included more than a dozen businesses, all of which gradually closed with the decline in rural population after World War II.

Oklahoma Historical Society 2003 - Friendship History Project
Directions
East of Altus, Ok, Highway 62 turn north at mile marker 45, go to the town of Friendship. Marker is on the east side of road.
Regions
Maps
More Pictures:
Friendship School
Friendship School
Dedicated in memory of parents, teachers and friends who thought us the true meaning of friendship, scholarship, sportsmanship, leadership and honor.


For more than sixty years Friendship schools meet the education needs and were the heart of the Friendship community. In 1899, soon after old Greer County was declared to be a part of Okahoma Territory and opened for homesteading. Clabber Flat school and after was called Friendship by some of those the school was the original home of the Friendship Baptist Church. Clabber Flat (Friendship School District) consolidated with Navajoe and part of Lone Oak Riverside School districts. A new school was built to serve the new consolidated district it was called Friendship.
In 1935 Pleasant Point consolidated with Friendship, while a new school was being built some students attended classes at the Methodist and Baptist Churches.
In 1937 the last Frienship school wa builit as a WPA project. In 1947 a part of the Ozark District and later in 1958, the Headrick District joined the Frienship school District.
On Novemeber 1, 1962, the Friendship School burned and the school year was completed in the abandoned Humphreys School building. In August 1963, Friendship consolidated with Warren school District and formed the school now known as Navajo School.
Dedicated March 24, 2003
1 - Riverside School 1889 - 1920
2 - Lone Oak School 1889 - 1905
3 - Lone Oak School 1905 - 1920
4 - Ricks Post Office 1902 - 1904
5 - Pleasant Point 1889 - 1935
School
6 - Friendship School 1937 - 1962
7 - Friendship School 1920 - 1937
8 - Clabber Flat School 1899 - 1920
9 - Midway Methodist 1913 - 1982
Church
10 - Alfalfa Post Office 1903 - 1905
11 - Friendship Baptist 1908 -
Church
12 - Navajoe School 1889 - 1920
13 - Town of Navajoe 1886 - 1907
14 - White School Circa 1894 - 1920
Historic Sites
in The Friendship Area

Friendship School
C.D. No 5
1936



Curtis Booher. Co. Supt.
Clark T. Mc Whorter Supt.

School Board
H. N. Schnorrenberg Pres.
J. L. Wiginton Clerk
Gardon Hudgens Member

Associate Board
T. A. Schackleford
J. B. Baucum
Homer Myers
H. V. West
Porter H. Moss Bldg. Supt.
Schall & Perkins Archts.



Great Western Cattle Trail




This Monument is located just out side of Altus Air Force Base.

Western Cattle Trail




Western Cattle Trail marker is located on the Northside of the Friendship marker. Friendship, OK

Links:

www.rootsweb.com/~itgenweb/itprojects/roads/cattle-trails.htm

digital.library.okstate.edu/Chronicles/v014/v014p084.html