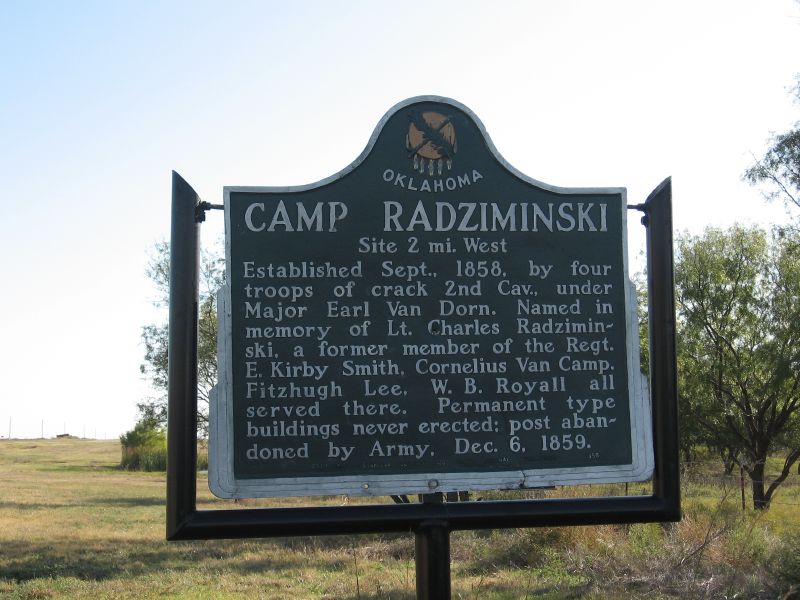 Camp Radziminski
Established Sept. 1858, by four troops of crack 2nd Cav. under Major Earl Van Dorn. Named in memory of Lt. Charles Radzimisnski, a former member of the Regt. E. Kirby Smith. Cornelius Van Camp, Fitzhugh Lee, W. B. Royall all served there. Permanent type buildings never erected; post abandoned by Army, Dec 6, 1859
Directions
On U.S. Highway 183, one mile north of Mountain Park, Kiowa County.
Regions
Maps
Encyclopedia of Oklahoma, Oklahoma Historical Society: Camp Radziminski

CAMP RADZIMINSKI. In September 1858, Bvt. Maj. Earl Van Dorn led soldiers of the Second U.S. Cavalry and First Infantry from Fort Belknap, Texas, in pursuit of Kiowa and Comanche raiders. Reaching the vicinity of present Tipton, in Tillman County, Oklahoma, Van Dorn ordered the construction of a camp on the left bank of Otter Creek. Named in honor of First Lt. Charles Radziminski of the Second U.S. Cavalry, the post contained no permanent structures. Also known as Camp Otter Creek, and Otter Creek Station, it was moved in November 1858 to better forage a few miles up Otter Creek. In March 1859 the camp was relocated a final time to a more sheltered site on the right bank of Otter Creek, four miles northwest of present Mountain Park, in Kiowa County.

From his base of operations at Camp Radziminski Van Dorn led his troops against the Comanches at the Battle of the Wichita Village near present Rush Springs, Oklahoma, in October 1858, and at Crooked Creek in southwestern Kansas in May 1859. Abandoned after the completion of Fort Cobb in December 1859, Camp Radziminski was briefly used by the Texas Rangers in their warfare against the Comanches. The site of Camp Radziminski near Mountain Park was placed on the National Register of Historic Places in 1972 (NR 72001067).

FortTours.com: Camp Radziminski

information is from the book, Mark of Heritage, by Muriel H. Wright, courtesy of Oklahoma Historical Society.

BlogOklahoma.us: Battle Wichita Village
Listed National Register of Historic Places
Camp Radziminski ** (added 1972 - Site - #72001067)
Also known as Camp Radzminski
Address Restricted, Mountain Park
Historic Significance: Information Potential
Area of Significance: Historic - Non-Aboriginal, Military
Cultural Affiliation: American Military
Period of Significance: 1850-1874
Owner: Private
Historic Function: Defense
Historic Sub-function: Military Facility
Current Function: Agriculture/Subsistence
Current Sub-function: Agricultural Fields

* A big thank you to Jeff from Omaha, NE for e-mailing in this picture of the Camp Radziminski marker.
Thank you Jeff for this pictures. I hope soon that the sign will be replaced on the new highway. Carleta
New 2008 Update and Photos:

Marker was not missing, the highway had been under construction and the road signs that read historical marker ahead had been removed and were replaced when construction was finished.
The historical marker was located on the west side of the highway next to fence and tree line. It did not face the highway it faced the county road. It was hard to see. It was just by chance that I found the marker, I had decide at the last minute to go to Mt. Park to see if the sign was there. It was a surprised when I located it. Carleta
More Pictures: