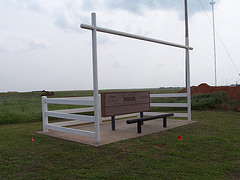 Retrop
Dedicated to the pioneers who settled this community whose perseverance and courage enabled them to survive the hard times of drought and dust bowl days give us a heritage in which we take great pride.

History states that most of the land around Retrop was settled in 1896-97. A man named Porter from Iowa, made application for a post office to be named Porter, but because there was an office in Indian territory by that name. The post office department spelled the name backward and "Retrop" was the new post office.

Retrop consolidated school was formed in 1912. The brick building erected in 1928 and closed in 1957

During the 1940s Retrop was a thriving community boasting a general store, cafe, barber shop, creamery, laundry, garage, blacksmith shop, cotton gin, churches, Masonic lodge, Easter Star Ladies Home Demonstration club and a fine consolidated school.

Old Retrop is located one mile east and one mile south. The Retrop Cemetery is located one mile east and one forth mile south of this location.

(Willis Granite Products 1994)

Back of marker lists all who contributed to the historical monument.

Monument depicts the Retrop School, Retrop Store, and Masonic Lodge.
Directions
East side of intersection of OK Hwy 6 and OK Hwy 55 on south side of road. Intersection is 11 miles west of Sentinel, Oklahoma, and 14 miles north of Granite, Oklahoma.
Regions
Maps