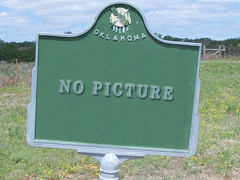 Hochatown
Prehistoric hunters left spear points along the Mountain Fork River at Hochatown around 6,000 B.C. Caddo Indians occupied the area from 1,000–1791 A.C. The town was named for a Choctaw Indian, Hocha, who arrived on the Trail of Tears in 1833. White settlers moved into the area in 1900. The original town was inundated by waters from Broken Bow Lake in 1968.
Directions
On US-259 at Hochatown Union Church and Cemetery
Regions
Maps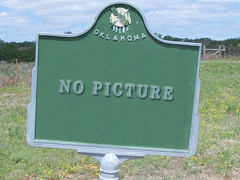 Links:
www.hochatown.net

Present-day Hochatown is actually the rebirth of the original town in the area to bear the name. In the mid-1960's, the U,S. Army Corps of Engineers came to dam the Mountain Fork River and the small town was moved lock, stock and barrel to the current site. The post office, the general store, homes. churches and even the cemetery was moved to the new location on Highway 259 to make way for the new lake. The last family left the village in 1966. Remnants of the old town can still be seen today while scuba diving at the bottom of Broken Bow Lake.

Hochatown State Park

Hochatown State Park wraps around the shore of crystal clear Broken Bow Lake. Camp lakeside, watch the sunrise over the lake from the balcony of your room at Lakeview Lodge, or enjoy a round of golf at Cedar Creek Golf Course. Hochatown State Park, a beautiful part of the Beavers Bend Resort Park experience!
* Some information from Oklahoma Historical Society