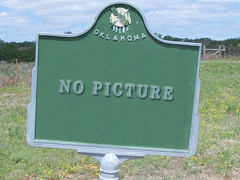 Oklahoma Farmers Union
1905-2005. Struggling farmers united to form Farmers Union at Point, Texas, in 1902. Spreading into the twin Territories, future statesman William H. "Alfalfa Bill" Murray helped establish the Indiahoma Farmers Educational and Co-Operative Union of America. The state organization officially began at a meeting near this site in Tishomingo, July 18-21, 1905. The statehood debate briefly split the group along territory lines. With the state issue decided, the group became Oklahoma Farmers Union. Working for the good of family farmers, the union built cooperatives, provided youth education and legislative representation on farm and rural issues, influenced agricultural advancements, and provided unavailable insurance services to rural areas. Members helped write the state constitution, initiated a crop curtailment program to get higher prices, and requested the state soil survey that began near Tishomingo.
Directions
401 W Main St, Tishomingo, Oklahoma.