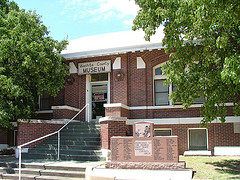 Washita County Museum
Museum dedicated to preserving the history of Washita County, Oklahoma. Over 10,000 items on exhibit. Also available is genealogical research items.

Museum is housed inside the old Carnegie Library.
Directions
Go 1 block North and 1 1/2 blocks West of the Hwy 183 & Hwy 152 Jct. to 115 E. 5th Street in Cordell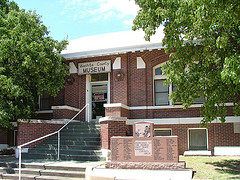 Notes
Open on Fridays from 2 to 4 PM
Also open by appointment.
National Register of Historic Places
Cordell Carnegie Public Library
(added 1989 - Building - #89001966)
Also known as Washita County Historical Museum
105 E. First St., Cordell
Historic Significance: Event, Architecture/Engineering
Architect, builder, or engineer: Bass,D.C., Crowell,A.A.
Architectural Style: Mission/Spanish Revival
Area of Significance: Architecture, Education
Period of Significance: 1900-1924, 1925-1949
Owner: Local Gov't
Historic Function: Education
Historic Sub-function: School
Current Function: Recreation And Culture
Current Sub-function: Museum