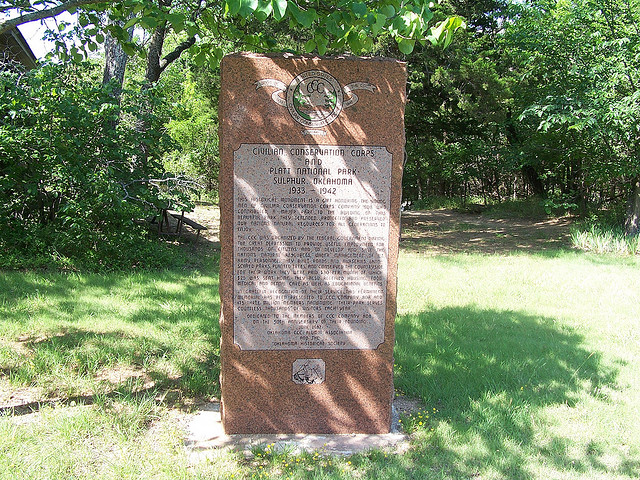 CCC and Platt National Park
Civilian Conservation Corps and Platt National Park
Sulphur, Oklahoma
1933 - 1942

This historical monument is a gift honoring the young men of Civilian Conservation Corps Company 808 who contributed a major part to the building of this beautiful park. the defended, protected and preserved our nation's natural resources for all generation to enjoy. The CCC was organized by the federal government during the The Great Depression to provide useful employment for thousands of citizens and to develop and save the Nations natural resources. Under management of U.S. Army personnel, they built roads and nurseries, landscaped parks, planted trees, and conserved the countryside. For their work they were paid $30 per month of which $25 was sent home. They also received housing, food, medical and dental care as well as educational benefits.

In grateful recognition of their service, this permanent memorial has been presented to CCC Company 808 and its three million members nationwide. Their park serves countless thousands of visitors each year.

Dedicated to the members of CCC Company 808

On the 50th anniversary of their founding June 1987 Oklahoma CCC Alumni Association and the Oklahoma Historical Society.

Willis Granite Product, Granite, Oklahoma.
Directions
In front of ranger station Chickasaw National Recreation Area, State Highway 177, just south of the town of Sulphur, Oklahoma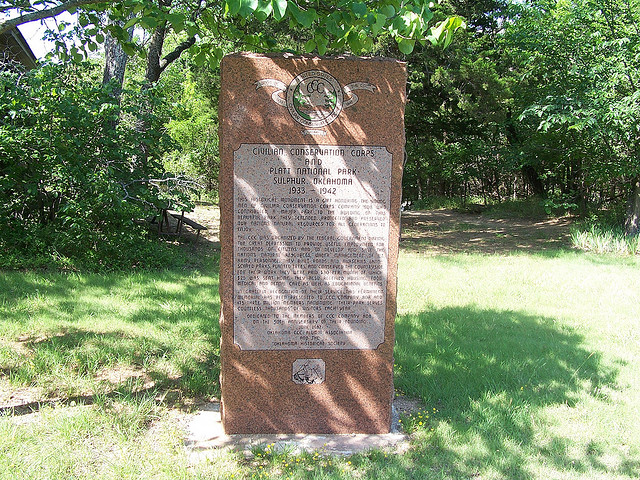 Notes
More Pictures:

Text from Kiosk:
Civilian Conservation Corps From 1933 to 1940, the Civilian Conservation Corps (CCC), a depression-era public works program, put hundreds of unemployed young men to work in our national parks. At this park they built roads, bridges, campgrounds, trails, and planted trees and shrubs. They erected enclosure walls around Buffalo and Hillside springs and built pavilions at Bromide and Pavilion Springs. To created Swimming holes along Travertine Creek, they built several small dams. Corpsmen were paid $30 a month, $25 of which went home to their families. Here in the park, the men of CCC Company 808 built their camp just east of the area known today as Walnut Grove. Group photo (above) of Company 808 at Platt National Park, 1930s. The corpsmen worked at Platt National Park from 1933 to 1940 Front view (below) of CCC Camp 808 at Platt National Park, 1930s. This area is now a popular picnic site called Walnut Grove. Chickasaw National Recreation Area
Links: