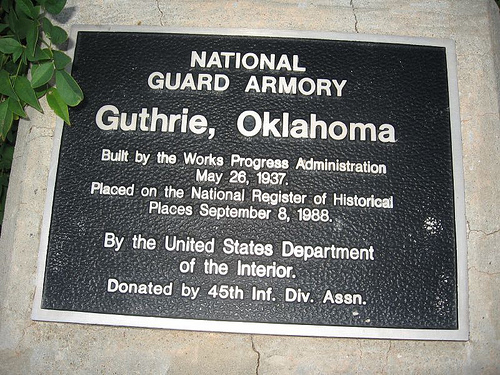 Guthrie National Guard Armory
National Guard Armory
Guthrie, Oklahoma
Built by the Works Progress Administration
May 26, 1937
Placed on the National register of Historical
Places September 8, 1988
By the United State Department of the Interior. Donated by 45th Inf. Div. Assn.
Directions
720 East Logan, Guthrie, OK
Notes
More Pictures:
Link:
http://www.ocgi.okstate.edu/shpo/shpopic.asp?id=94001083
http://en.wikipedia.org/wiki/45th_Infantry_Division_(United_States)
National Register of Historic Places:
Guthrie Armory
(added 1994 - Building - #94001083)
Also known as National Guard Armory
720 E. Logan, Guthrie
Historic Significance: Event, Architecture/Engineering
Architect, builder, or engineer: Works Progress Administration,
Nolen, Bryan W.
Architectural Style: Other
Area of Significance: Architecture, Economics, Military
Period of Significance: 1925-1949
Owner: State
Historic Function: Defense, Industry/Processing/Extraction
Historic Sub-function: Arms Storage, Extractive Facility
Current Function: Defense
Current Sub-function: Arms Storage