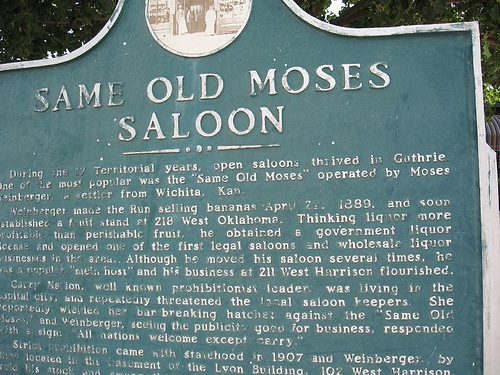 Same Old Moses Saloon
During the 17 Territorial years, open saloons thrived in Guthrie. One of the most popular was the "Same Old Moses" operated by Moses Weinberger, a settler from Wichita, Kan.

Weinberger made the run selling bananas April 22, 1889, and soon established a fruit stand at 218 West Oklahoma. Thinking liquor more profitable than perishable fruit, he obtained a government liquor license and opened one of the first legal saloons and wholesale liquor businesses in the area. Although he moved his saloon several times, he was a popular "mien host" and his business at 211 West Harrison flourished.

Carry Nation, well know prohibitionist leader was living in the capital city, and repeatedly threatened the local saloon keepers. She reportedly wielded her bar breaking hatchet against the "Same Old Mose," and Weinberger, seeing the publicity good for business, responded with a sign: "all nations welcome except Carry."

Strict prohibition came with statehood in 1907 and Weinberger, by then located in the basement of the Lyon Building, 102 West Harrison, sold his stock and swung the saloon doors closed for the last time.


Directions
2nd and Harrison, downtown Guthrie, Oklahoma
Regions
Maps