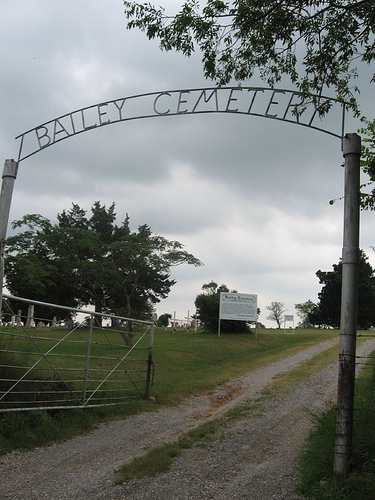 Bailey Cemetery
Bailey Cemetery

This is a very old cemetery in southern Grady County.
A post office was established in 1892.

Directions
From Marlow,OK. go east on OK 29 for 8.8 miles, turn north on Bailey road and go 5 miles, at the "T" intersection turn east and go 1 mile, cemetery is on the south side of road.
Notes
More Pictures:
This is old grave, it is supposed to be and Indian grave.
Antidote:
It is a old tale,that if you walk up to the grave and ask what are you doing, you will hear nothing.
These are wildflower, Blue Bonnets and Indian Painted Brush.
Personal Note:
My grandfather, Uncle, and a infant cousin are buried in this cemetery.
Links:
http://ftp.rootsweb.ancestry.com/pub/usgenweb/ok/grady/cemeteries/bailey.txt
http://www.rootsweb.ancestry.com/~usgenweb/ok/grady/cemeteries/bailey.jpg