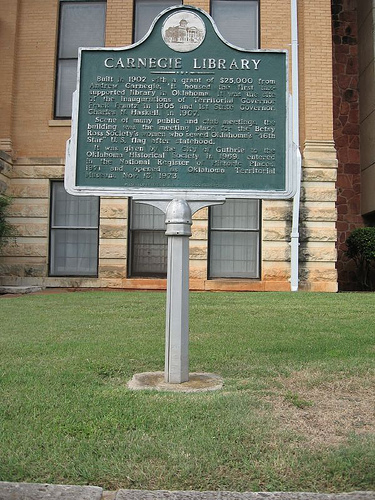 Carnegie Library
Built in 1902 with a grant of $25,000 from Andrew Carnegie. It housed the first tax supported library in Oklahoma. It was the site of the inaugurations of Territorial Governor Frank Frantz in 1905 and 1st State Governor Charles N. Haskell in 1907.

Scene of many public and club meetings the building was the meeting place for the Betsy Ross Society's women who sewed Oklahoma "46th Star" U.S. flag after statehood.

It was given by the City of Guthrie to the Oklahoma Historical Society in 1969, entered in the National Register of Historic Places 1971 and opened as Oklahoma Territorial Museum Nov. 13, 1973.
Directions
Ash and Oklahoma Ave
Guthrie, Oklahoma
Regions
Maps
National Register of Historic Places:
Carnegie Library
** (added 1971 - Building - #71000666)
Oklahoma Ave. and Ash St., Guthrie
Historic Significance: Event
Area of Significance: Social History, Politics/Government
Period of Significance: 1900-1924
Owner: Local Gov't
Historic Function: Education
Historic Sub-function: Library
Current Function: Education, Recreation And Culture
Current Sub-function: Museum
More Pictures
First Library
This is the first Carnegie Library in Okla. Frank Frantz, last Territorial Governor and Charles Haskell, First State Governor were inaugurated on the steps here. The mock Wedding of Miss Indian Territory and Mr. Oklahoma Territory was here. The First State Flag was made here by 90 Okla. women on June 16, 1908
Erected by Fogarty Jr. High
Oklahoma History Class 1954 - 1955
Statehood

Created by Frederick A. Olds depicting the symbolic wedding uniting Miss Indian Territory and Mr. Cowboy Oklahoma on Statehood day , November 16, 1907, this "Wedding" symbolized the twin Territories coming into the union as one State.

This plaque is given as an expression of gratitude to the Bi-centennial committee who worked to finance this project and to Frederick A. Olds who generously gave of his time and talent.

Chamber of Commerce.


New Pictures:
Remodel is finished
Link:
http://www.blogoklahoma.us/Marker.asp?id=630
http://www.ocgi.okstate.edu/shpo/shpopic.asp?id=71000666