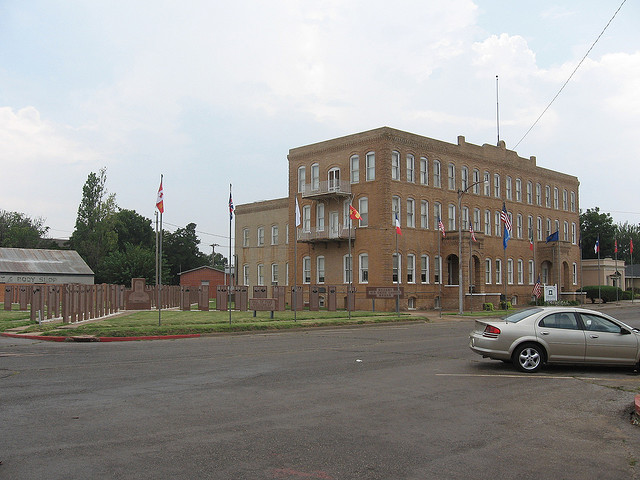 Old Greer County Museum
Located in Mangum, Oklahoma, the Old Greer County Museum was established as a depository to preserve and keep the knowledge, history and facts regarding Old Greer County. To protect and commemorate the people, places and things that represented this area before Statehood, and provide a lasting memorial for those brave pioneers who carved a home out of an untamed wilderness.
Directions
222 West Jefferson Street, Mangum, Oklahoma
Notes
OPEN: Thursday, Friday & Saturday 10 a.m. - 4 p.m.
Special tours offered 7 days a week
ADMISSION: $3 Adults, $1 Children, Children under 5 admitted free.
www.oldgreercountymuseum.com
History of the Old Greer County Museum & Hall of Fame

Located a half block west of the Mangum Public Square, the tan brick structure was opened as the Mangum Hospital by Dr. Fowler Border shortly before Oklahoma Statehood in March 1907. Dr. Border's fame as a physician and goiter specialist attracted patients from a wide area, and he enlarged the hospital to meet the growing demand for his services.

In 1915, Dr. Frank Harrison McGregor joined him, and in 1929 the hospital was further enlarged to be three-story, with a 32-bed capacity.

Among the factors, contributing to the closing of the hospital was the addition of iodine to the national diet in the form of iodized salt. Since minute quantities of this mineral prevented goiter formation, the surgical removal of the unsightly protrusions from the necks of sufferers was no longer needed. Thus, the goiter patient load declined.The drought and depression forced large numbers of southwest Oklahoma people to seek livelihoods elsewhere, and the use of the hospital was still further reduced.

The next occupants of the building were young women of the National Youth Administration (NYA) project. Mary McGregor, the wife of Dr. Frank McGregor, was their sponsor and housemother. It was active until World War II required the services of both the teachers and their students.

In 1948, the Baptists purchased and operated the "Southwest Baptist Hospital" for 17 years before selling it to the City of Mangum in June 1965. The city moved the hospital facilities to a new location in 1967. The building remained vacant until 1973 when the city leased it for a 99-year term to the Old Greer County Museum and Hall of Fame. The Border-McGregor Hospital building and grounds provide a perfect place for the Old Greer County Museum and Hall of Fame for Old and Young Pioneers.
More Pictures:
MBR>