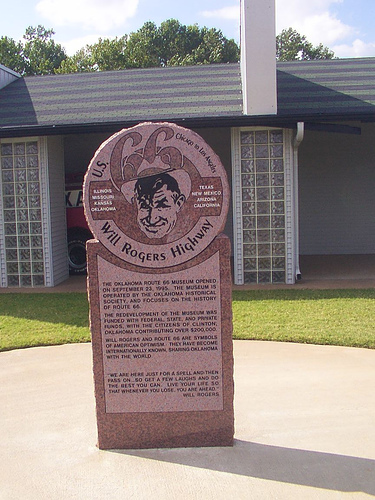 Route 66 Museum - Clinton, Ok - Monument
Route 66 - Will Roger Highway - Museum Monument

The Oklahoma Route 66 Museum opened on September 23,1995. The museum is operated by the Oklahoma Historical Society, and focuses on the history of Route 66.

The redevelopment of the museum was funded with federal, state and private funds, with the citizens of Clinton, Oklahoma contributing over $200,000.

Will Rogers and Route 66 are symbols of American optimism. They have became internationally known, sharing Oklahoma with the world.

"We are here just for a spell and then pass on ...so get a few laughs and do the best you can. Live your life so that whenever you lose, you are ahead."
Will Roger Back Side Of Marker:

Sponsored by Friends of the Oklahoma Route 66 Museum, In Will Rogers Heritage Trust - Claremore, OK CPG - J. Darrel Ray - Joplin, MO,


Directions
Take exit 65 on I-40. Go 1/8 mile past the stop light.
Museum is on the west side of road.
Address is: 2229 W. Gary Blvd.