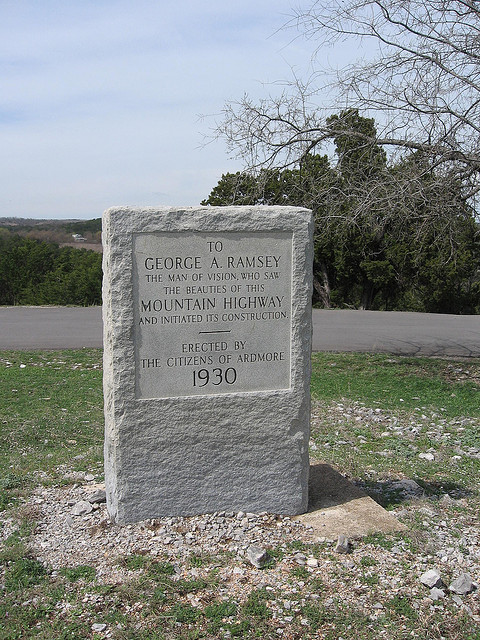 Turner Falls Overlook Road Monuments
Marker One:

To George A. Ramsey
The man of vision , who saw the beauties of this Mountain Highway and initiated it construction.
Erected by the Citizens of Ardmore
1930

Marker Two:

1923--1926

This road built with prison Labor
Under the Direction of
M. E. Trapp -- Governor of Oklahoma
W. S. Key, Warden -- State Penitentiary
The State Highway Commission
Syruas S. Avery -- Chairman
Roy M. Johnson -- Member
R.J. Gentry -- Member
J.M. Page -- State Highway Engineer


Directions
Davis, Oklahoma - I-35 and Highway 77
From Oklahoma City, continue South on I-35 and take exit 51 for Turner Falls Park. Continue up the mountain road until you reach the Overlook. Monuments are on the west side of road.
Notes
More Pictures:
Turner Falls overlook Point
Looking down on Turner Fall Park
Arbuckle Mountains
Turner Falls Over-look point road monuments
Arbuckle Mountains
These views of Turner Falls are from a highway overlook. Most of the rockwork and trails in Turner Park were built during the 30's by the CCC*. The highway down to the park was also built during the Great Depression. By prison labor.