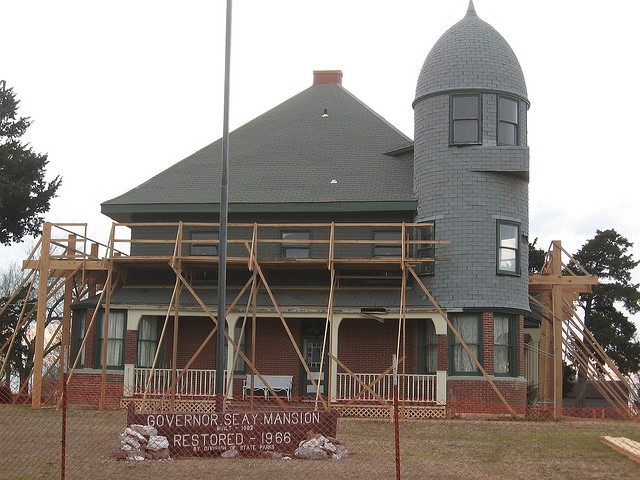 Governor A.J. Seay Mansion
National Register of Historic Places
Built 1890
Restored 1966
By Division of State Park

The Seay Mansion is a historical monument built upon dreams by Abraham Jefferson Seay in hopes that Kingfisher would be the new capitol of Oklahoma Territory.

Governor Seay served as second Territorial Governor of Oklahoma from 1892 to 1893, built the three story mansion story mansion named "Horizon Hill" for approximately $11,000.00 on fifteen acres of land purchased for $637.50, just outside of Kingfisher, OT. The mansion was completed in March of 1892 to host dignitaries present present for the opening of the Cheyenne and Arapaho Land Run.
Directions
Museum Complex - Directions: From U.S. Hwy. 81 in Kingfisher, five blocks west on Seay Ave., one block north to Zellers Avenue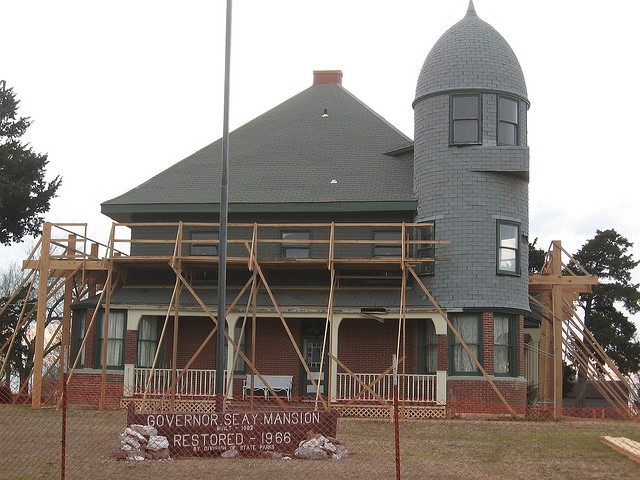 Notes
National Register of Historic Places
Seay Mansion
** (added 1971 - Building - #71000664)
Also known as Seay (Gov.) Mansion;Seay Home
11th St. and Zellers Ave., Kingfisher
Historic Significance: Person, Architecture/Engineering
Architect, builder, or engineer: Unknown
Architectural Style: No Style Listed
Historic Person: Seay,Abraham J.
Significant Year: 1892
Area of Significance: Social History, Politics/Government
Period of Significance: 1875-1899
Owner: State
Historic Function: Domestic
Historic Sub-function: Single Dwelling
Current Function: Recreation And Culture
Current Sub-function: Museum
Seay Mansion Info:
Free Admission
Tuesday through Saturday -- 9 a.m. to 5 p.m.
Sunday -- 1 p.m. to 5 p.m.
Closed Mondays and Legal Holidays
605 Zellers Ave.
405-375-5176
FAX: 405-375-5176
Mansion is being renovated