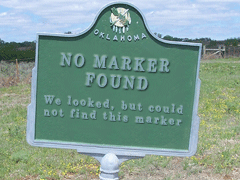 Camp Comanche
Camp Comanche was set up near a large Comanche village by the First Dragoons under Colonel Henry Dodge on July 16, 1834, while enroute from Ft. Gibson to Plains tribes. 75 Dragoons and George Catlin, noted artist, were too ill to travel farther with the expedition. The camp was evacuated July 28, upon Dodge's return from peace councils with the Plains Indians.
Directions
On US 62 near county line of Comanche county and Caddo County. Near Apache, OK
Note: No marker was located.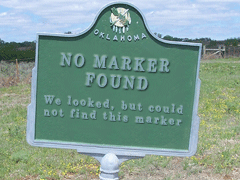 Notes
National Register Of Historic Place:

Camp Comanche Site *** (added 1977 - Site - #77001091)

Address Restricted, Fort Sill
Historic Significance: Event
Area of Significance: Historic - Aboriginal, Art, Military
Period of Significance: 1825-1849
Owner: Federal
Historic Function: Defense, Domestic
Historic Sub-function: Camp
Current Function: Landscape
Current Sub-function: Underwater


More Information:
http://www.forttours.com/pages/mohcomanche.asp
Mark Of Heritage by Muriel H. Wright