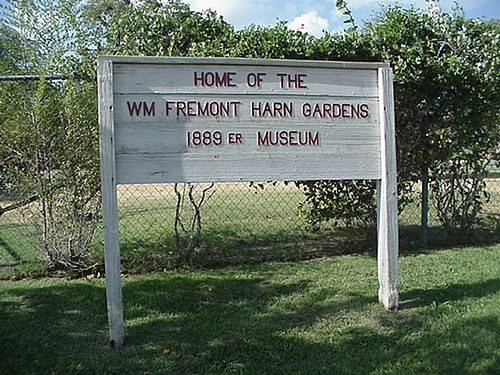 Harn Homestead / 1889ers Museum
Harn Homestead

The Harn Homestead, claimed during the Great Land Run Of April 22, 1889 in the Oklahoma Territory. President Benjamin Harrison appointed Mr. William Fremont Harn to be a special land commissioner in the Oklahoma Territory to settle the many disputes over land claims.

Mr. Harn and his wife, Alice moved to Oklahoma Territory and bought 160 acres on which the William Fremont Harns Gardens, Inc., know as the Harn Homestead exists today.

Through his experience as a claim adjuster, Mr. Harn knew the value of land and became one of the early developers of Oklahoma City and developed several neighborhoods, features some of Oklahoma City's oldest homes. Many are currently on the National Register of Historic Places.

Mr. Harns donated 40 acres of his property for the State of Oklahoma to relocate the state capital building from Guthrie to Oklahoma City. His neighbor, Mr Culbertson, also donated 40 acres of land. The state capital now sits on both Mr. Harn and Mr. Culbertson's land.

Harn Homestead and 1889 Museum ground comprised of seven turn-of-the-twentieth century buildings including: 1900 Victorian farmhouse,Exhibit Barn, 1904 Harn House (Mr. Harn ordered a Queen Anne Style home from National Builders Supplement catalogue, a Sears & Roebuck company. Mr. Harn ordered it for a Christmas present, it was crated up in Chicago, put on a train, and erected at the homestead in 6 weeks in 1904),1890 Shepherd Family House, 1897 Stoney Point Schoolhouse,1904 Shinn Barn and outlying buildings including the Man's House.

Mr. Harn and Mrs Harn did not have any children, but they did take in Mrs. Harn's niece, Florence Wilson. She inherited the property 1944 and lived there until 1967. She deeded it to the City of Oklahoma City for a museum. The Harn Homestead is now a private museum, in June 1986, the museum became the William Fremont Harns Gardens, Inc.
Directions
The Harn Homestead is located just south of the State Capital, off of Lincoln Boulevard.

313 NE 16th, Oklahoma City, OK

The Harn Homestead is open Monday--Friday from 10:oo a.m.--4:00 p.m.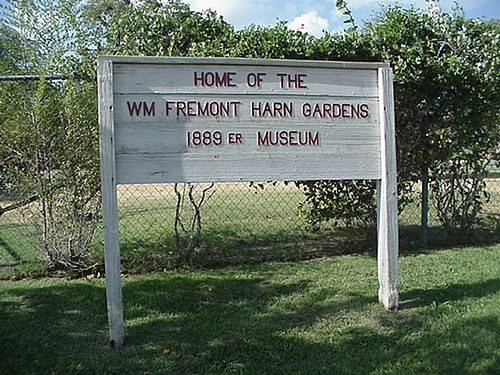 Notes
Link:
http://www.harnhomestead.com
More Pictures:
National Register of Historic Places:
Harn House
(added 1973 - Building - #73001566)
NE 17th St. and Stiles, Oklahoma City
Historic Significance: Person
Historic Person: Harn,William Fremont
Significant Year: 1904, 1904
Area of Significance: Politics/Government
Period of Significance: 1900-1924, 1925-1949
Owner: Local Gov't
Historic Function: Domestic
Historic Sub-function: Single Dwelling
Current Function: Vacant/Not In Use