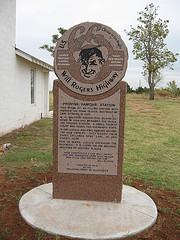 Provine/Hamons' Station
U.S. 66 Chicago to Los Angeles

Illinois Texas
Missouri New Mexico
Kansas Arizona
Oklahoma California
Will Rogers Highway
Provine/Hamons' Station
This Rural Rt. 66 Filling station with an over the drive design, was built by Carl Ditmore in 1929.
W.O. Waldrop bought the business/home in 1934 and renamed the place, The Provine Station. A small tourist court was added for overnight stays.
In 1941 Lucille and Carl Hamons became the new owners. They raised their three Children Dene, Carl Jr. and Cheryl here.
For 59 years Lucille operated the business. It is listed on the National Register of Historic Places.
"What constitute's a life well spent?
Love and admiration from your fellow men is all that anyone can ask."

Will Rogers

Erected in 2006
by the
Oklahoma Route 66 Association
Directions
0.5 mi. W, of jct. of I-40 and OK 58, Hydro, Ok on the North side of old Highway 66. (E 1020 Rd/Old OK-66 - go 0.5 mi)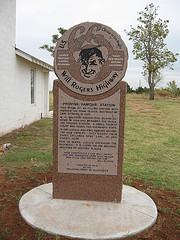 Notes
More Pictures:
This is a brand new marker the first trip I made to this site the marker still had the plastic wrap still taped to it. It was unvailed about a week later.
Historic Route 66
National Register Of Historic Places:
Provine Service Station (added 1997 - Building - #97000803)
Also known as Hamons' Service Station
0.5 mi. W of jct. of I-40 and OK 58, Hydro
Historic Significance: Event, Architecture/Engineering
Architectural Style: Bungalow/Craftsman
Area of Significance: Commerce, Architecture
Period of Significance: 1925-1949
Owner: Private
Historic Function: Commerce/Trade, Domestic
Historic Sub-function: Single Dwelling, Specialty Store
Current Function: Commerce/Trade
Current Sub-function: Specialty Store