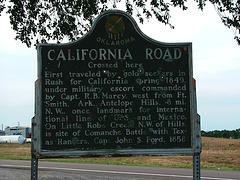 California Road
California Road crossed here. First traveled by gold seekers in Rush for California spring 1849, under military escort commanded by Capt. R.B. Marcy west from Ft. Smith, Ark. Antelpoe Hills, 8 mi. N.W., once landmark for international line of U.S. and Mexico. On Little Robe Creek N.W. of Hills is site of Commanche Battle with Texas Rangers, Cap John S. Ford, 1858
Directions
Located near Roll, OK on US 283 & SH 33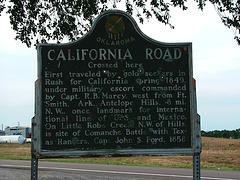 Notes
Cheyenne Chamber of Commerce:
www.cheyenneokchamber.com
After the United States acquired the Louisiana Purchase in 1803, American civilian and military explorers retraced the steps of the Spanish and French along the Canadian. Maj. Stephen H. Long concluded his 1821 expedition along the Canadian by declaring America's heartland to be the "Great American Desert." Nonetheless, traders set up stations along the river. Edwards' Post was erected at an earlier Spanish trading site at the mouth of Little River; there in 1834 Col. Henry Dodge's Dragoon Expedition to the Comanches and Kiowas established Camp Holmes. Chouteau's Trading Post was built in the Creek Nation near present Lexington, and nearby in 1835 the U.S. Army established Camp Mason for a conference of Plains tribes. In 1839 Josiah Gregg led a trading party from Fort Smith along the Canadian to Santa Fe, subsequently publicizing the route in his 1844 book, The Commerce of the Prairies. In 1843 Capt. Nathan Boone led dragoons up the Canadian to the 100th meridian, at that time the United States' western border.
After the discovery of gold in California in 1848, in 1849 Capt. Randolph B. Marcy commanded troops that marked out the California Road from Fort Smith along the Canadian through Oklahoma, a route that was used extensively by emigrants until 1861. In 1853 a Canadian route for a transcontinental railroad was explored across Oklahoma by Lt. Amiel W. Whipple of the U.S. Topographical Engineers.
During the Civil War, control of the California road was contested by Union and Confederate troops.
Source:
Encyclopedia of Oklahoma