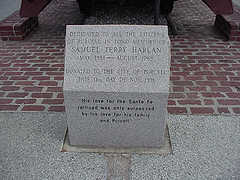 Santa Fe Plaza & Statehood Star Memorial
Santa Fe Plaza and "Star" Memorial


Santa Fe Plaza
A genuine Santa Fe Caboose stands in the park. A dedication marker was located in front of the caboose inside the Santa Fe Plaza:
Dedicated to all the Citizens of Purcell in fond memory of
Samuel Terry Harlan
May 1951----August 1989
Donated to the City of Purcell
This 11th day of Nov. 1991
"His love for the Santa Fe railroad was only surpassed by his love for his family and Purcell."
"Star" Memorial
"Statehood Star Memorial"
is laid in the sidewalk at the front of the park.
The memorial plaque was donated to the city of Purcell by the Historical Society remembering, "On November 16, 1907, Purcell's children celebrated Oklahoma's entry into Statehood by forming a human "Star" in the downtown intersection.
This symbolized Oklahoma's role as the 46th star in the U.S. Flag."
In 1995, the ceremony was duplicated by the children of Purcell and surrounding areas at which time the memorial plaque was presented.
Directions
Purcell, Ok. 2nd and Main Street.