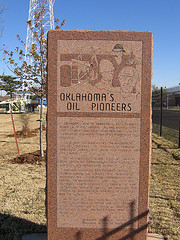 Devon Energy Oil and Gas Park
The story of oil and gas exploration and discovery is a tale of risk, innovation, fortunes won and lost, spectacular successes and dramatic challenges. The Devon Oil and Gas Exploration Park at the Oklahoma History Center interprets some of the technology that is part of the fascinating history of Oklahoma's oil industry. Technological innovations in Oklahoma oil fields revolutionized petroleum production worldwide and greatly expanded the industry.
Directions
Next to the Oklahoma History Center, located on the northeast corner of N.E. 23rd & Lincoln Boulevard, across the street from the Oklahoma Capitol.