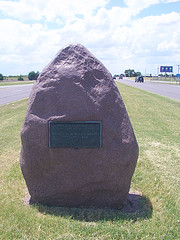 Sheriff W.A. (Wal) Williams
Erected In Honor Of The Services Of All Peace Officers And Dedicated To The Memory Of Sheriff W.A. (Wal) Williams 1869 -- 1930 Who Gave His Life In The Courageous Performance Of His Duty. May 13,1930
Directions
Location: 4 miles south of Marlow, at the junction of U.S. 81 and U.S 7 (This junction is called the marlow/duncan/lawton "Y") Marlow/Duncan, OK Stephens County. The marker sets in the center median on U.S. 7 and faces the east. A smaller marker behind large stone, has a sheild and has several numbers and is dated 1939.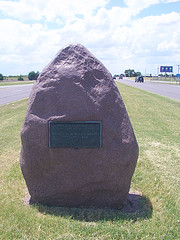 Notes
Links:
oklahombres.org - Shootout on US Hiway 81

This shoot-out, between the four Cunningham brothers and a fairly large contingent of law enforcement officers, was covered quite well in (at least) two early issues of the Oklahombres' Journals. First, Dee Cordry's article entitled "The Killing of Sheriff W.A. 'Wal' Williams" appeared in Vol. 4 No. 2; and, Ken Butler wrote about the same incident in Vol. 10 No. 4. Ken's article was titled "The Cunningham Brothers."