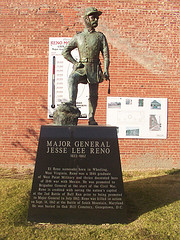 Major General Jesse Lee Reno
Major General Jesse Lee Reno 1823-1862 El Reno namesake born in Wheeling, West Virginia. Reno was a 1846 graduate of West Point Military and thrice decorated hero of 1846 war with Mexico. He was promoted to Brigadier General at the start of the Civil War. Reno is credited with saving the nations's capitol at the 2nd Battle of Bull Run prior to being promoted to Major General in July 1862 at the Battle of South Mountain, Maryland. He was buried in Oak Hill Cemetery, Georgetown. D. C.
Directions
Youngheims Plaza, corner of N. Bickford and E. Russell.