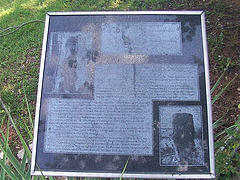 Initial Point Monument
Was dedicated by Duncan Chapter NSDAR as a Bicentennial Commonrative project on Feb. 22, 1974

"Honor's the pioneers of Oklahoma and their revolutionary ancestors and presents the significance of Initial Point"

(This marker is very hard to read) Initial Point high on the top of the Arbuckle Mountains in the most important U.S. Geodetic survey mark for all of Oklahoma except the Panhandle. It is used as far north as South Dakota and by Southwest states.

This Indian Base Line Monument is built close by the Indian Base Line which forms one of the main streets in Duncan. It is constructed of native Reagan Sandstone and Sycamore Limestone taken from Initial Point.

At the close of the Civil War, the five civilized tribes owned all of Oklahoma. But in the joint reconstruction Chickasaw and Choctaw Treaty of 1866 was this provision for the survey and subdivision of all Chickasaw lands east of the 98th Meridian because it required that each freedman to be given forty acres of land~also in this Treaty was the word "Oklahoma" meaning Red People used officially for the first time.

The U.S. Land office instructed their surveyor to "select suitable Initial Points" in the center of the Chickasaw Nation and perpetuate it by a suitable monument, and from that point establish a principal meridian and base line to be known by the designation of the In ital Base Line and Meridian after the point was established the land was divided into townships north and south and ranges east and west.

High on this Arbuckle Mountain top stands this survey Landmark, a weathered sandstone on a 56" by 16" slab set in a mound of stones that came out of the upheaval millions of years ago which formed the Arbuckle.

Initials "IP" for Initial Point are deeply carved on the west side of the stone, on the east side are "IM" for Indian Meridian. On the north is the date 1870 when Initial Point was established as the survey mark.

This Bicentennial Monument was designed and constructed in 1974 by Ruth Ann Dunlap, Duncan Chapter DAR Regent and husband Stuart Dunlap, sponsored by the Duncan Chapter Society Daughter of the American Revolution. It won national recognition by the U.S. Bicentennial Committee, the National Society Daughters of the American Revolution and First place award of the State DAR Society.
Directions
Located Next To The Indian Base Line Monument In Fuqua Park/Memorial Park, Just North Of The Intersection Of Beech And U.S. 81 On West Side Of Road, Duncan, OK, Stephens County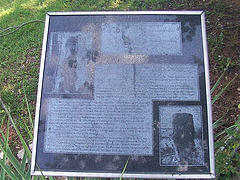 Notes
Encyclopedia of Oklahoma, Oklahoma Historical Society

INDIAN MERIDIAN (Indian Meridian and Indian Base Line). Located approximately twelve miles west of the 97th meridian. As provided in treaties between the U.S. government and the Choctaw and Chickasaw nations in 1866, Indian land east of the 98th meridian was surveyed according to the public land survey system of the U.S. General Land Office.