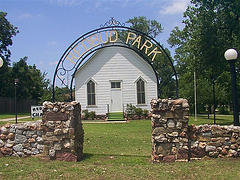 Redbud Chapel
At the turn of the last century, families from Marlow had to travel many miles to celebrate mass every six weeks. Because of the muddy trails, even horses and buggies had problems negotiating the roads, making the trip approximately three hours in length.

The first priest to celebrate Mass occasionally in Marlow was Father Ellias Fink, O.S.B., stationed in Chickasha in 1900. Father Urban de Hasque, a native of Belgium, who became pastor of Chickasha in 1901 commenced celebrating Mass once a month on a wee day in Marlow and then on Sunday every two months. Services were held in the residence of local banker, Tom Wade.

On December 1, 1902 Mr. Wade donated property at the corner of 4th and Comanche for a church. The Immaculate Conception Catholic Church was originally built in 1904. The following year a strong wind moved the building about 20 feet from its foundation and almost wrecked it, but soon the church was replaced on a somewhat lower foundation. However it was not found possible to restore the floor to a true level nor the walls to perfect straightness. Yet notwithstanding these defects the building continuously served Marlow are Catholics un till it was moved to its present location.

The congregation continued to increase in size in 1997 construction of a new Catholic sanctuary was to begin on the site. The chapel was donated to the City of Marlow, and within weeks Marlow and area citizens raised more than $20,000 to save the little Chapel.

Marlow's oldest church was moved to its present location on April 27, 1997. It was renamed Redbud Chapel by residents, and is now a nondenominational community chapel.

Redbud Chapel is one of the cornerstones on which the community honors its heritage and develops its future.
Directions
Redbud Park, 4 blocks E of Main St stoplight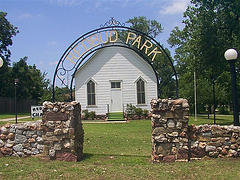 Notes
TravelOK.com: Redbud Park
Encompassing 10 city blocks, this city park includes the Creekwalk, a 1/2 mile walking trail with historical exhibits and structures about the outlaw history of Marlow, and a 13,000 square foot western-themed children's playground called the Hideout. Redbud Chapel is also on site, one of the first built in the area during the early 1900s and relocated to the park in 1997.