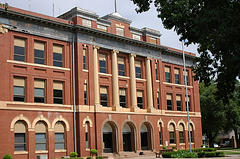 Greer County Courthouse
The Greer County Courthouse in Mangum, OK.
Directions
Lincoln and Oklahoma. Fountains are located on all four corner courthouse square.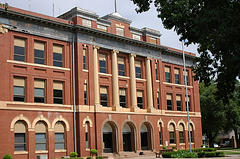 Notes
Mangum, Oklahoma is the Capital of the Empire of Old Greer County and is nestled in the rolling plains of Oklahoma's southwest. Her rich history is filled with pioneer spirit which is immortalized in Granite stone memorials at Mangum's Pioneer Hall of Fame.
Mangum's town site was plotted by H.C. Sweet, a civil engineer of Texas, in 1882, at the request of Captain A.S. Mangum, who was a veteran of the Mexican War and had been granted land script as remuneration for his services in the Texas army by the Republic of Texas. In the beginning, the town was known as "Tin City" due to the use of tin cans that were flattened out and used to cover the cracks between the boards of the first houses constructed.
More Pictures: