Directions
Located in Bicentennial Park downtown Oklahoma City.
Regions
Maps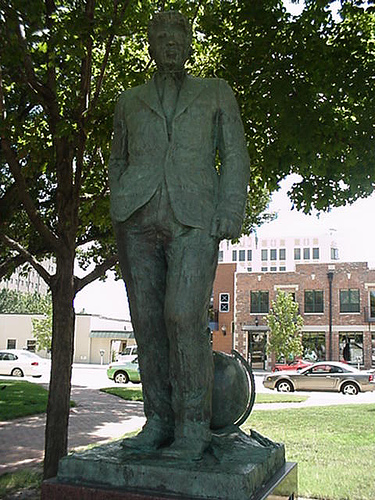 More Pictures:
These donors by their generous contributions have made possible this memorial commemorating the memory of Wiley Post
Civic support for the Wiley Post solo fight around the world in 1933 and for this monument dedicated Sept 26, 1963, was initiated and erected by the Oklahoma City Chamber of Commerce
The Wasp S3D1 Engine
Was built by
Pratt and Whitney Aircraft Division
United Aircraft Corporation
East Hartford, Connecticut
World's first successful space suit
was conceived by Wiley Post
and developed by
The B.F. Goodrich Company
Akron, Ohio
The "Winnie Mae"
Was a Lockheed Vega 5 - C
Built by
Lockheed Aircraft Corporation
Burbank, California
June 23 - July 1, 1931
Wiley Post circled the globe in 8 days, 16 hrs , 31 minutes flying the "Winnie Mae" and accompanied by a navigator.
July 15 - July 22, 1933
He made the first solo flight around the world in the same aircraft in 7 days, 18 hrs, 49 minutes.
Wiley designed the first pressurized space suit in 1934. In this equipment and supercharged engine on the Winnie Mae, he proved that greater speed could be obtained above the weather at high altitudes: December 2, 1934-- Bartlesville,Oklahoma unofficial altitude 48.000 feet. March 15,1935-- Los Angeles to Cleveland in the sub stratosphere 340 Miles per hour His pioneering flights led to the development of high altitude high pressurized craft. <
Links:
http://www.blogoklahoma.us/Marker.asp?id=478