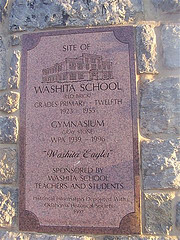 Washita School
(First Marker on North side)

Site of Washita School
(Red Brick)
Grades Primary-Twelfth
1923-1955
Gymnsium
(Gray Stone)
WPA 1939-1996


"Washita Eagles"

Sponsored by
Washita School
Teachers and Students
Historical Information Deposited with Oklahoma Historical Society
1997
W H S

(Second Marker on South side)

Washita, Oklahoma

*Took it's name from the Washita River"

*"Washita" is from two Choctaw words. "Owa" and "Chita" meaning "Big Hunt"

*The Wachita Indian Agency was nearby prior to the Civil War

*Site of a Civil War engagement Oct 23, 1862

*On Hwy 9 and Rock Island Railroad

*Post Office Established April 16, 1910

Old School Bell at the top of the marker.
Directions
Location: From Fort Cobb, Ok, Caddo County, on Ok 9 go 7 miles east to intersection of of OK 9/US 62/ US 281 continue of 2 miles east on Ok 9 to sign that read Historical marker 4 miles turn left go to stop sign-jog in road straight head to - stop sign at Washita, Ok (don't give up it's there I turned around once and then turned around again and decide I'd keep trying) turn left about 1/2 miles. Marker is in grassy area on the right. Take the first road at in of the grass turn right and it will take you around to the front of the marker on north side. Marker is on right side.