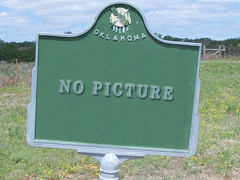 Walker's Station
Here was located a stage stand of the Butterfield Overland Mail Route, created under an Act of Congress on March 3, 1857. The first mail stage arrived here in September 1858, enroute to San Francisco. Service continued until the outbreak of the War Between the States.
Directions
At site of Old Choctaw Agnecy, about one and a half miles northeast of Spiro, Oklahoma. * / near Shady Point, Oklahoma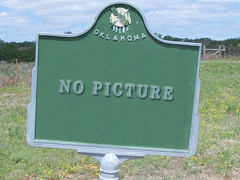 Notes
Wikipedia
Walker's Station was a stage stand on the old Butterfield Overland Mail route in Indian Territory. It was located at the old Choctaw Agency in Skullyville in what is now Le Flore County, Oklahoma. The station was named for Tandy Walker, Choctaw chief, and later, Governor of the Choctaw Nation. The old Choctaw Agency building was his residence.

Walker's Station was added to the National Register of Historic Places (#72001074) in 1972.
National Register of Historic Places
Choctaw Agency ** (added 1972 - Site - #72001074)
Also known as Old Skullyville;Walker Station
1 mi. E of Skullyville on SR, Spiro
Historic Significance: Event
Area of Significance: Native American, Education, Transportation, Politics/Government
Period of Significance: 1825-1849, 1850-1874, 1875-1899
Owner: Private , Local Gov't
Historic Function: Domestic, Government
Historic Sub-function: City Hall, Post Office
Current Function: Agriculture/Subsistence
Current Sub-function: Agricultural Fields
Links:
* Information from Oklahoma Historical Society