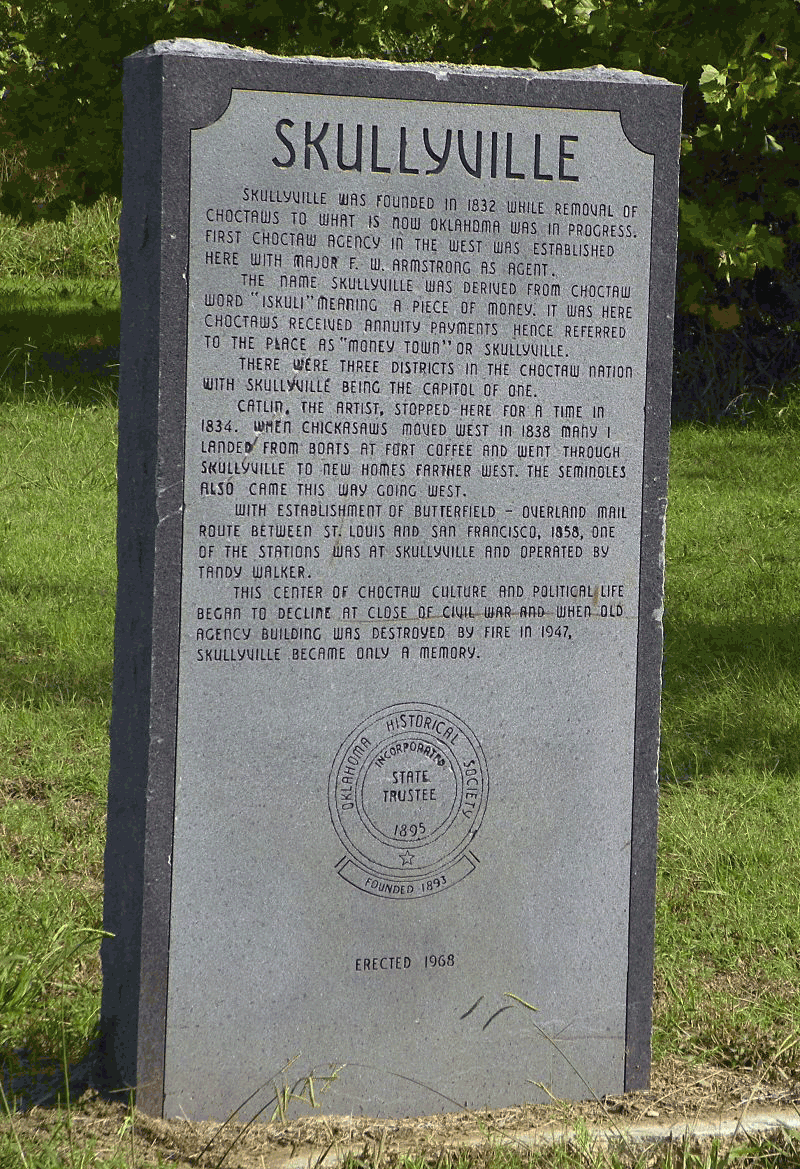 Skullyville
Skullyville was founded in 1832 while removal of Choctaws to what is now Oklahoma was in progress. First Choctaw Agency in the west was established here with Major F. W. Armstrong as agent.
The name Skullyville was derived from Choctaw word "Iskuli" meaning a piece of money. It was here Choctaws received annuity payments hence referred to the place as "Money Town" or Skullyville.
There were three districts in the Choctaw Nation with Skullyville being the capitol of one.
Catlin, the artists, stopped here for a time in 1834. When Chickasaws moved west in 1838 many landed from boats at Fort Coffee and went through Skullyville to new homes farther west. The Seminoles also came this was going west.
With establishment of Butterfield - Overland mail route between St. Louis and San Francisco, 1858, one of the stations was at Skullyville and operated by Tandy Walker
This center of Choctaw culture and political life began to decline at close of Civil War and when old agency building was destroyed by fire in 1947, Skullyville became only a memory.
Oklahoma Historical Society. Erected 1968
Directions
Marker located at turn to entrance to Skullyville Cemetery on Spring Rd., Skullyville, Oklahoma. (Just SE of Sprio, Oklahoma)
From Sprio, Oklahoma: From Hwy 9 and N Main Ave in Spiro. Head north on N Main Ave toward NW 2nd St. Take the 1st right onto NE 2nd St. Turn left onto Lakeview Dr. Continue onto Co Rd 22A/Co Rd D1220 for 1 mile. Turn left onto Spring Rd.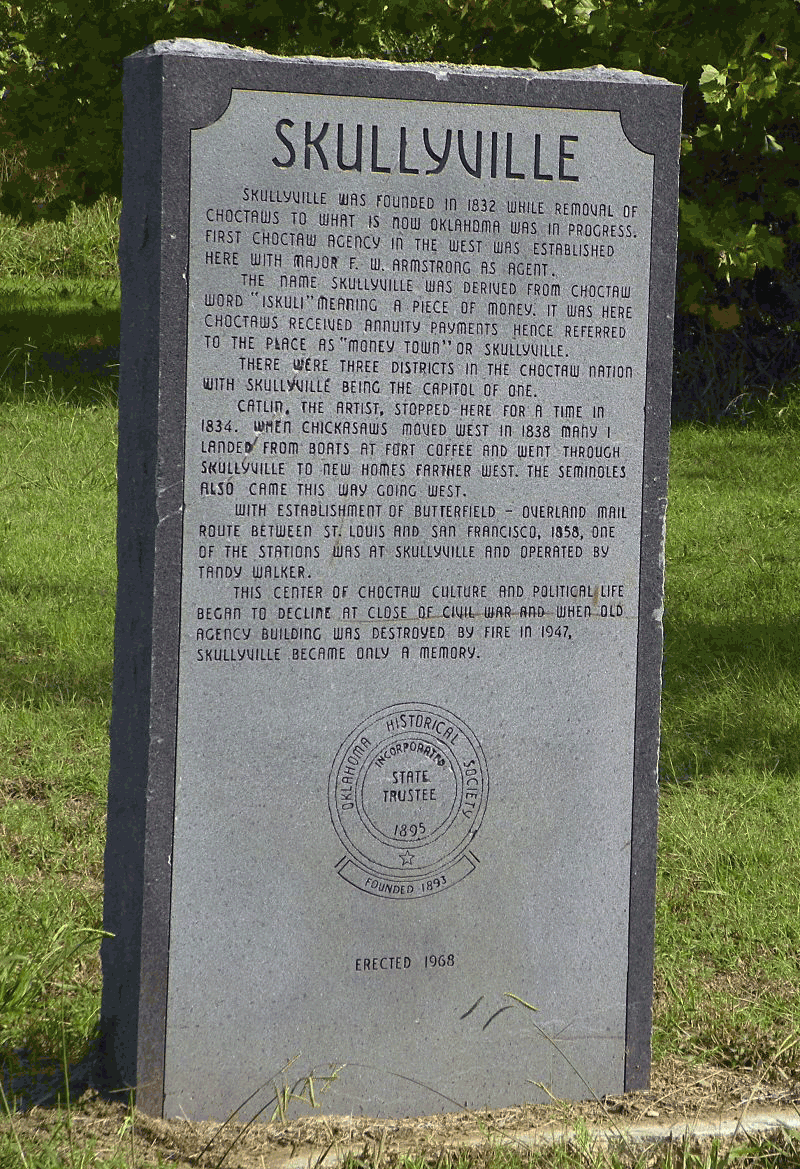 Notes
National Register of Historical Places
Choctaw Agency ** (added 1972 - Site - #72001074)
Also known as Old Skullyville;Walker Station
1 mi. E of Skullyville on SR, Spiro
Historic Significance: Event
Area of Significance: Native American, Education, Transportation, Politics/Government
Period of Significance: 1825-1849, 1850-1874, 1875-1899
Owner: Private , Local Gov't
Historic Function: Domestic, Government
Historic Sub-function: City Hall, Post Office
Current Function: Agriculture/Subsistence
Current Sub-function: Agricultural Fields
Oklahoma Ghost Towns - Skullyville (LeFlore County)
Known also as Old Town and Oak Lodge, Skullyville was settled by the Choctaws in 1832 when they were removed from their homelands in the southeastern United States. Since the Choctaws were the first to arrive in Indian Territory, Skullyville was one of the first communities in Oklahoma. As a center where federal annuities were paid to the Choctaws, it became the site of the first Choctaw Agency and the capital of the Choctaw Nation as well as a political and education center. When Fort Coffee, established nearby on the Arkansas River in 1834 to protect the tribe, was abandoned about 1845, it became the Fort Coffee Academy for Boys and operated until the Civil War. Another Methodist school, the New Hope School for Girls, lasted from about 1845 until the Civil War, then reopened in 1871 and operated until 1896. The Skullyville Constitution of 1857 established a stable government for the Choctaw Nation here. During the Civil War, the town was a Confederate outpost and suffered Union attacks that destroyed many buildings. Although Skullyville (sometimes spelled Scullyville) was the first stop in Indian Territory on the Butterfield Overland Mail route in the late 1850s, it never regained its former importance. When the railroad bypassed the area, Skullyville was finished. Nothing remains of the old town except the cemetery, one of the oldest in Oklahoma. Located east of Spiro off SH-9.
Links: