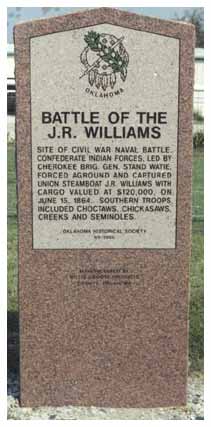 Battle of the J.R. Williams
Site of the civil war naval battle. Confederate Indian forces, led by Cherokee Brig. Gen. Stand Watie, forced aground and captured Union Steamboat J. R. Williams with cargo valued at $120,000 on June 15, 1864. Southern troops included Choctaws, Chickasaws, Creeks, and Seminoles.
Directions
just east of Stigler, Oklahoma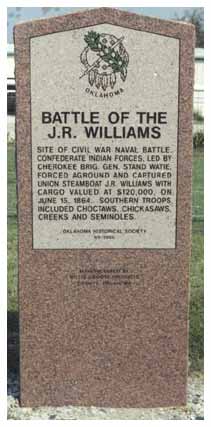 Notes
HistoryCentral.com

Confederate transport J. R. Williams, carrying supplies up the Arkansas River, Oklahoma, from Fort Smith to Fort Gibson, 'was taken under fire by Union artillery. The steamer was run aground and abandoned by her crew, and Federal forces subsequently destroyed her.

The Search for the JR Williams (Wayback Archive)

History of the Steamboat "J.R. Williams"