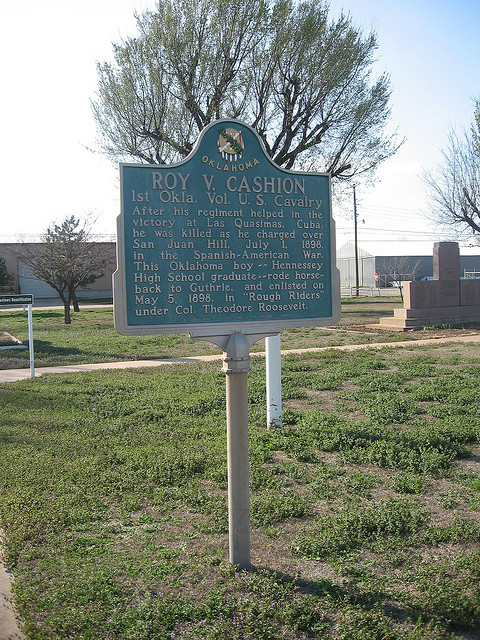 Roy V. Cashion
Roy V. Cashion

1st Okla. Vol. U.S. Cavalry
After his regiment helped in the victory at Las Quasiman, Cuba. he was killed as he charged over San Juan Hill. July 1, 1898 in the Spanish-American War.
This Oklahoma boy - Hennessey High School graduate - rode horse-back to Gurhrie, and enlisted on May 5, 1898, in "Rough Riders" under Col. Theodore Roosevelt.
Directions
The Roy Cashion Memorial statue is located in Memorial Park on the west side of Highway 81 in Hennessey, Oklahoma.
Note:
It may be the first outdoor statue erected in Oklahoma and was paid for with funds collected from school children, town appropriations, and a warrant drawn on the territorial treasury.
Notes
Roy Victor Cashion
Born March 19, 1881
Medina, Michigan
_________________
United with Hennessey Methodist Episcopal Church
ca. 1896
_________________
Parents:
Frank S. and Josephine Cashion
Brothers:
Perry A., Ira J., Byers, Carl O., Arthur W., Jesse H.
Sister:
Ora V ( Dauner)
_________________
Schooling:
1st Graduating Class
Hennessey High School
Friday, April 30, 1897
_________________
Military Service:
Troop D
1st US Volunteer Cavalry
"Rough Riders"
_________________
1st Oklahoma Death In Foreign War
July 1, 1898
Before Santiago de Cuba
Spanish-American War
_________________
(from Hennessey Clipper )
More Pictures:
Link:
http://www.spanamwar.com/oklahomagraves.htm
http://www.hennessey.lib.ok.us/Obit.htm
http://www.hennessey.lib.ok.us/Memorial1.htm