Directions
Directions to Roxana. From Crescent, OK drive 11 miles north to Hwy 51, turn left and go 2 miles to the intersection of 51 and 74E (to Marshall) but continue on West 2 miles and turn left and go 1 mile South. On Hwy 51 there is a marker about Roxana that will tell you where to turn. The school is across from the old refinery and store. Some signs of refinery by the creek.
*Note: School building no longer there, 2007
Regions
Maps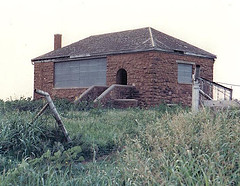 * Directions and Picture provide by Bill Moran (via e-mail).
"On the back I wrote Roxana School - picture taken 1987"
References:
Chronicles of Oklahoma
D. Earl Newsom, "Roxana: The Last of the Wild Boom Towns," Vol. 69 (Spring 1991): 62-77.
A typical oil boom and bust cycle was experienced by this town in Logan County beginning in 1927.


RootsWeb: Marshall Township Logan County, Oklahoma

Probably the most interesting community was Roxana, as the historical marker shows. Roxana was located in the SW corner of section 20, and is no longer in existence. The name comes from one of the wives of Alexander the Great, and was proposed by Mrs. Marcus S. Abrhams. Mr. Abrahams established the Roxana Petroleum Company in the area for the Royal Dutch Shell Oil Company.

Oklahoma Ghost Towns: Roxana

On current Oklahoma maps, the place has no name. But in 1927, it was the wildest, most wicked oil boomtown in the state. A huge gusher made a poor farmer a millionaire overnight and people came here from everywhere looking for work. The town couldn't be built fast enough.

PlacesNamed.com: Roxana, Oklahoma, United States is in Logan County; location is 36°6'5"N 97°39'25"W; elevation is 992 feet [SourceGSP]
36.101389° Latitude 97.656944° Longitude (above location converted to dec. GPS to marker as yet unconfirmed.)
More Pictures:
Roxana Ranch
Founded 1992

Original Town Site
of
Roxana

Roxana Oil Co. hit McCully well 29 June 1927 1st well in Oklahoma drilled over a mile deep. Town platted 16 July 1927 by George L. Ross. Application to vacate the town site 17 March 1939, except property owned by John J. Traynor who ran Roxana service station.

Outlaw Dick Yeager one of Oklahoma's most notorious bandits was shot here in 1895.

Erected 1999, Edward Clark and Joyce Ann Newton
Robert Wyman Newton - J. Michael Panter
John. B Traynor


Link:
Story of Outlaw Dick Yeager
Nathaniel Ellsworth Wyatt, alias Zip Watt, alias Dick Yeager, alias Wild Charlie. Was a member at one time of the Dalton-Doolin gang and later formed the Wyatt-Black gang.
http://bjsbytes.com/garfield/outlaws.htm