Battle of Turkey Springs I.T.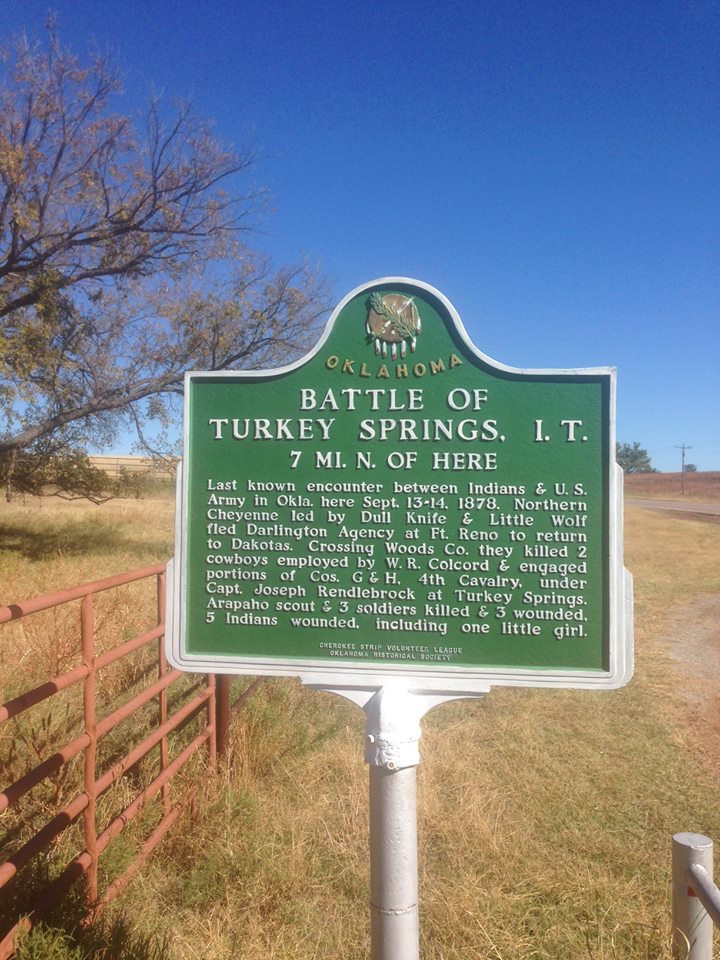 Battle of Turkey Springs I.T.
7 Mi. N. of Here
Last known encounter between Indians & U.S. Army in Okla. here Sept. 13-14, 1878. Northern Cheyenne led by Dull Knife & Little Wolf fled Darlington Agency at Ft. Reno to return to Dakotas. Crossing Woods Co. they killed 2 cowboys employed by W.R. Colcord & engaged portions of Cos. G & H. 4th Cavalry, under Capt. Joseph Rendlebrock at Turkey Springs. Arapaho scout & 3 soldiers killed & 3 wounded, 5 Indians wounded, including one little girl.
Directions
A few miles east on U.S. 64 from intersection of U.S. 64 and Highway 50 (known as Camp Houston - North of Freedom, Oklahoma) at a small rest area on north side of road. 
Regions
Maps
Notes:
Marker was replaced.  

Thanks to Bob Seivert for the pictures.
[UPDATE] 

We believe we found where this marker should be, but all that is at the rest area is a metal poll consistent with other polls used by the old green historical markers. If you have any information about this missing marker please contact us.  
Links:
The Battle of Turkey Springs and Red Hills


The Battle of Turkey Springs, which occurred on September 13 and 14 of 1878, north and east of Freedom, is a significant event in the history of pre-statehood Oklahoma. As such, the Freedom Chamber of Commerce and the Town of Freedom have joined forces once again to educate the public about this last engagement between the U.S. Cavalry and the Northern Cheyenne...