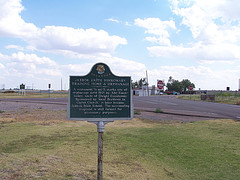 Jabbok Orphanage & School Marker
Jabbok Faith Missionary Training Home & Orphanage. A monument 1/2 mi. S. marks site of orphanage est'd 1901 by Abe Eisenhower, uncle of Dwight Eisenhower. Sponsored by local Brethren in Christ Church, it later became Jabbok Bible School. The surrounding cropland is still farmed for missionary purposes.
Directions
The marker is at the intersection of Hwy 33 and Hwy 47 on west side of Thomas, Oklahoma. The monument is 1/2 mile south from that marker on South side of cemetery at W. SOUTH and S. 15th.