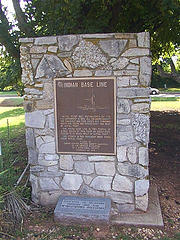 Indian Baseline Monument
Initial point was established by the U.S.government in 1870. All Oklahoma except the panhandle was then divided into townships north and south and ranges east and west of initial point.

The Indian Base Line is two-tenth of a mile south of this point on beech road. Duncan is 41 miles west of initial point.

The stones in this nomument were taken from initial point.

Placed by Duncan chapter, Natioanl Society Daughters of the American Revolution as a bicentennial project February 22, 1974
Directions
Located Next To The Intial Point Monument In Fuqua Park/Memorial Park, Just North Of The Intersection Of Beech And U.S. 81 On West Side Of Road, Duncan, OK, Stephens County.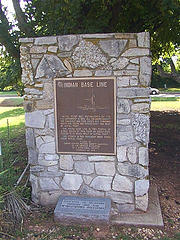 Notes
Encyclopedia of Oklahoma, Oklahoma Historical Society

INDIAN MERIDIAN (Indian Meridian and Indian Base Line). Located approximately twelve miles west of the 97th meridian. As provided in treaties between the U.S. government and the Choctaw and Chickasaw nations in 1866, Indian land east of the 98th meridian was surveyed according to the public land survey system of the U.S. General Land Office.