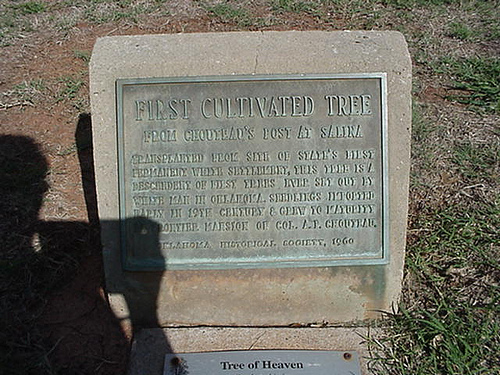 First Cultivated Tree
First Cultivated Tree

From Chouteu's Post at Salina Transplanted From site of State's first permanent white settlement, this tree is a descendant of first trees ever set out by white man in Oklahoma. Seedling ----- in 19th century & grew to maturity------- ----- frontier mansion of A. P. Chouteau. Oklahoma historical Society. 1960

Ailanthus altissima - Tree of Heaven Drawing of Foliage and Seeds of Ailanthus altissimaAilanthus altissima is native to Asia, and began its journey west by being introduced to Europe in 1751 by a French Jesuit priest who brought it from Nanking, China to England. The first known specimen was brought into the United States a few decades later by William Hamilton, who planted this species in Philadelphia (Shah 1997). People admired the beautiful foliage of these fast-growing trees, and for over a century have been planting it as an ornamental, although the males of the species often emit a foul-smelling odor.
Directions
Old Oklahoma Historical Society Building
Also known as Wiley Post Historical Building
2100 Lincoln Blvd., Oklahoma City

Located on the lawn on west side of building