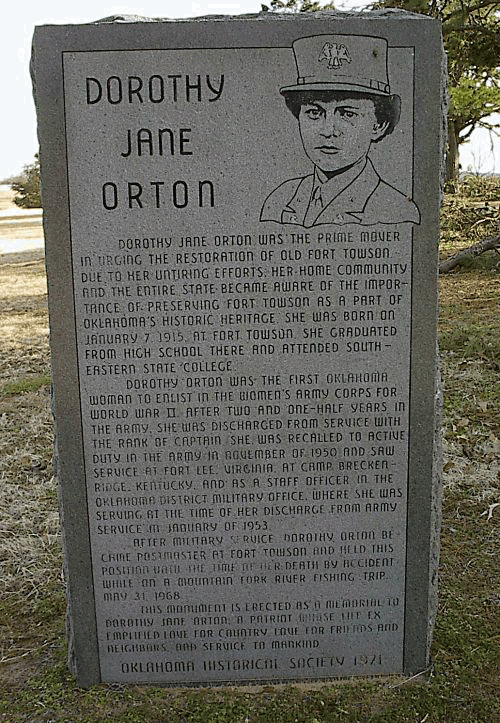 Dorothy Jean Orton
Dorthy Jane Orton was the primer mover in urging the restoration of old Fort Towson due to her untiring efforts. Her home community and the entire state became aware of the importance of preserving Fort Towson as a part of Oklahoma's Historic Heritage. She was born on January 7, 1915, at Fort Townson. She graduated from high school there and attended Southeaster State College.

Dorothy Orton was the first Oklahoma woman to enlist in the Women's Army Corps for World War II after two and one-half years in the army. She was discharged from service with the rank of Captain. She was recalled to active duty in the army in November or 1950 and saw service at Fort Lee, Virginia, at Camp Breckenridge, Kentucky, and as a staff officer in the Oklahoma district military office, where she was serving at the time of her discharge from army service in January of 1953.

After military service Dorothy Orton became postmaster at Fort Townson and held this position until the time of her death by accident while on a Mountain Fork river fishing trip May 31, 1968.

This monument is erected as a memorial to Dorothy Jane Orton, a patriot whose life exemplified love for country, love for friends and neighbors and service to mankind.
Directions
at Fort Towson Visitor Center, Fort Towson Historic Site, near Fort Towson, Oklahoma