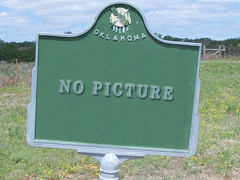 Doaksville
Growing around Josiah Doak's store, established in the late 1830s, the town became the commercial center of the region. On November 11, 1847, the name of the nearby post office at Fort Towson was changed to Doaksville. None of the original structures are standing today. It was near here that Brigadier General Stand Watie became the last Confederate general to surrender in the Civil War.*
Directions
from US-70 North on Red Rd 1-1/4 mi, less than 1/4 mi east (Behind the Cemeter) Fort Towson, Oklahoma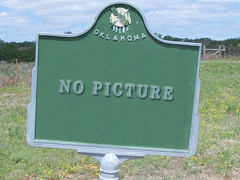 Notes
Links:
Oklahoma Historical Society - Military Sites - Fort Towson - Doaksville

The Doaksville archeological site provides a glimpse of the diverse historic and cultural past of southeast Oklahoma. Here, a trading post was established during the early 1820s by Josiah Doaks. With the signing of the treaties, Dancing Rabbit Creek and Doaks Stand, Doaksville became a major destination in what would latter became known as Indian Territory (IT). With the military post nearby at Fort Towson for protection, Doaksville became the largest town in IT in 1850 and the commercial center of the Choctaw Nation. ...

Chronicles of Oklahoma (V.4 #2) June, 1926 - First Post Offices In What Is Now State Of Oklahoma.

...Doaksville (Choctaw Nation) established as Fort Towson in Sevier County, Arkansas, September 7, 1832. George Gooding appointed first postmaster. The name of this office was changed to Doaksville, November 11, 1847, at which time Joseph R. Barthelet was appointed postmaster. ...

Doaksville - a pictorial look at the oldest community in the Choctaw Nation

Noted Town in Indian Territory

This site is at the north end of main street, called "Commercial Row," in this town begun in 1831. Name of nearby post office, "Ft. Townson" was changed to Doaksville Nov. 11, 1847.

Oklahoma Historical Society, 1960.
* Description and directions from Mark of Heritage by Muriel H. Wright.