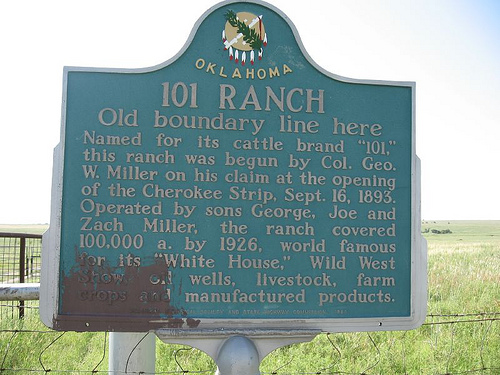 101 Ranch
Old boundary line here - Named for its cattle brand '101' this ranch was begun by Col. Geo. W. Miller on his claim at opening of Cherokee Strip, Sept. 16, 1893. Operated by sons, George, Joe, and Zach Miller, the ranch covered 100,000 a. by 1926, world famous for its "White House," Wild West Show, oil wells, livestock. farm crops and manufactured product.
Directions
Located on OK-156, 1 mile north of Marland, Oklahoma
Notes
Believed to have derived its name from the 101,894 acres of the Ponca Reservation, this huge ranch was founded by George W. Miller and his sons in the early 1880s on land he leased, eventually purchased, or otherwise acquired from the Ponca Indians. The ranch became world famous for its Wild West show, oil wells, livestock, and farm products.
Video:

Brief history of the 101 Ranch in Oklahoma. Via: YouTube / Murphy Moore