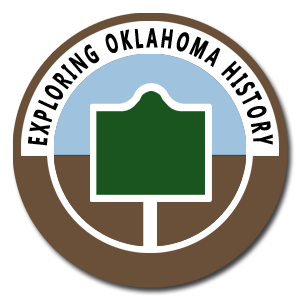 Exploring Oklahoma History
Exploring Oklahoma History is just for the fun of seeing what there is to see in the great state of Oklahoma, and to possibly learn a little something along the way.
– Labor Omnia Vincit –
Explore
This database is provided to help you explore the great state of Oklahoma.
Remember
An calandar full of Oklahoma history. See what happened today.
Learn
The latest on our discoveries and adventures around Oklahoma.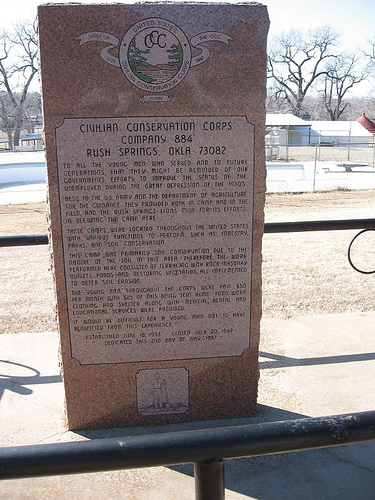 Civilian Conservation Corps Company 884 Rush Springs, Okla. 73082 To all the young men who served and to future generations that they might be reminded of our governments efforts to improve the status of the unemployed during the Great Depression of the 1930's Also to the U.S. Army and the Department of Agriculture for the guidance they provided both in camp an
...
Sorry nothing listed for today. Let's look ahead.
March 4
---
Settlers meet to form Cimarron Territory
Friday, March, 4, 1887 – The settlers soon formed their own vigilance committees, which organized a board charged with forming a territorial government. The board enacted a preliminary code of law and divided the strip into three districts divided by the meridians. They also called for a general election to choose three members from each district to meet on March 4, 1887, to form the government. more...
Alice Mary Robertson
Friday, March, 4, 1921 – Alice Mary Robertson (January 2, 1854 – July 1, 1931) was an American educator, social worker, government official, and politician who became the second woman to serve in the United States Congress, and the first from the state of Oklahoma. Robertson was also the first woman to defeat an incumbent congressman. She was known for her strong personality, commitment to Native American issues, and an anti-feminist stance. Until the election of Mary Fallin in 2006, she was the only female member of Congress to serve the state of Oklahoma. She served in Congress from March 4, 1921 to March 3, 1923. More...
In this week's episode we take another look back into Oklahoma history as we explore the tragedy at Babbs Switch. Welcome to Blog Oklahoma.
In this long overdue episode we take another look back into Oklahoma History.with the fascinating tale of Greer County … Texas. Welcome to Blog Oklahoma.
The book investigates a series of murders of wealthy Osage people that took place in Osage County, Oklahoma in the early 1920s—after big oil deposits were discovered beneath their land. ...