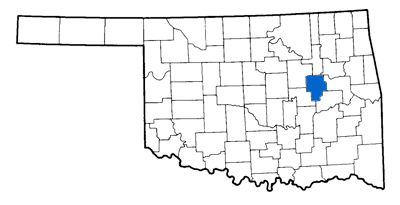 Okmulgee County
County Seat: Okmulgee, Oklahoma 74447
Okmulgee County's name is derived from the Hitichita (Lower Creek) word okimulgi, meaning "boiling waters".
Erected 1878, Ward Coachman, Principal Chief, Creek Nation organized 1867 under written constitution, and Okmulgee named as capital. Noted Chiefs here included Samuel Checote, Joseph Perryman, Isparhecher, Pleasant Porter. "Okmulgee Constitution" written here in Inter-Tribal Council, ...
This noted Creek leader, b. 1819 Ala., had attended old Asbury Mission before he came to Ind. Ty. He was a Methodist preacher for 32 years till his death, 1884. He served as Lieut. Col., First Reg. Creek Mounted Vols., C.S.A., during the Civil War. Elected for his first term as Principal Chief, ...