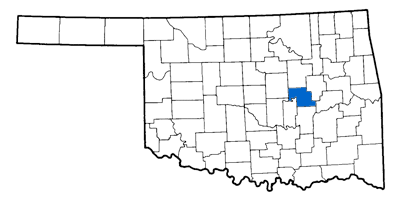 Okfuskee County
County Seat: Okemah, Oklahoma 74859
The county is named for a former Muscogee town in present Cleburne County, Alabama, that in turn was named for the Okfuskee, a Muscogee tribe.
Listed in the National Register Of Historic Places Photos by Loretta and Charles Douaghe.
In 1903, the town was founded by and named for deputy U.S. Marshal Paden Tolbert who served the federal court in the Western District of Arkansas presided over by Judge Isaac C. Parker, the "hanging judge".*
Est. August 1903 - Inc. May 11, 1905. Boley, Creek Nation, I.T., established as all Black town on land of Creek Indian "Freedwoman" Abigail Barnett. Organized by T.M. Haynes first townsite manager. Named for J. B. Boley, white roadmaster, who convinced Fort Smith & Western Railrad that Blacks c ...