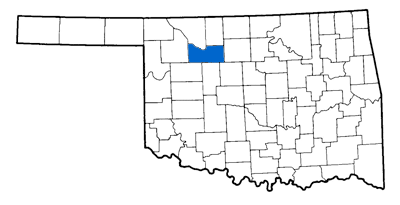 Major County
County Seat: Fairview, Oklahoma 73737
Upon statehood in 1907, Major County was created from southern part of a territorial county. Fairview, which had been settled following the Land Run of 1893, was designated the county seat and voters reaffirmed the choice on December 22, 1908. The county's commissioners rented office space until a brick courthouse was constructed. A second courthouse, made of stone, was erected in 1928.
Named for John Charles Major, a representative to the state's 1906 Constitutional Convention, the area was originally settled by large numbers of Kansas Mennonites. One county town, Meno, received its name from an early leader of the Mennonite movement.
The Ames Astrobleme Museum, which opened August 18, 2007, features numerous image panels and a video showing the formation of the Ames crater and its discovery as a significant geological and economic resource. The crater was caused by a meteor striking the area 450 million years ago. There is ...
A recreational-educational park that is accessible for hiking and picnicking from sunrise to sunset. Facilities include a restroom, picnic pavilions, picnic tables, grills, public water supply, handicap trail to historical marker, and a hiking trail from base parking lot to the top of Cathedral ...