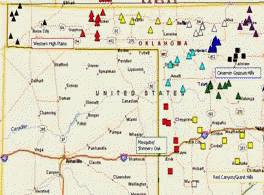 Viewing nature in western Oklahoma has gotten easier with the creation of a new map by the Oklahoma Wildlife and Prairie Heritage Alliance to help promote tourism in western Oklahoma. The
Great Plains Trail of Oklahoma
offers a wide variety of wildlife viewing opportunities and habitats.
The Great Plains Trail of Oklahoma has been making steady progress toward the development of a trail full of nature tourism opportunities, rich in historical and cultural heritage, and tells the story of the American Great Plains. From prairie chickens to horned toads, scissor-tail flycatchers to elk, the public and private lands of western Oklahoma are home to a diversity of unique and interesting wildlife species. The Great Plains Trail of Oklahoma will showcase the small-town hospitality and rich cultural and environmental heritage of the region. The trail is a highway-based, wildlife viewing trail that will span the entire western portion of the state while attractingvisitors to wildlife destinations within the states of Texas, Oklahoma and Kansas. From its strong Native American heritage to its natural icons like the Wichita Mountains, Black Kettle National Grasslands, the Black Mesa, Little Sahara, Alabaster Caverns and The Great Salt Plains, western Oklahoma exhibits a sense of American history that has all but vanished elsewhere in the country.
Just look for the new brown highway signs with a Scissortail Flycatcher on them.

For more information visit the The Oklahoma Wildlife and Prairie Heritage Alliance at
www.owpha.org
.