Exploring Oklahoma History (at blogoklahoma.us) is just for the fun of seeing what there is to see in the great state of Oklahoma, and to possibly learn a little something along the way.
The Exploring Oklahoma History Historic Places Database is an going project started on May 19, 2005. The information provided in the database is entered in by volunteers who visited or did research about each location. Some entries may not have any information yet or even be listed. Though we strive for accuracy, some information could be incorrect.
All time and labor in maintaining Exploring Oklahoma History is donated by volunteers. Exploring Oklahoma History does not accept any advertising or monetary donations. We do display Google Ads (in an unobtrusive way) and have setup a CafePress Store.
Unless otherwise noted, information provided on Exploring Oklahoma History is listed under a Creative Commons Attribution-NonCommercial-ShareAlike 4.0 International License. The Exploring Oklahoma History badge logo and BlogOklahoma.us script logos are copyright © K. Latham.
Exploring Oklahoma History (blogoklahoma.us) is part of the Blog Oklahoma family of websites.
Exploring Oklahoma History is currently not affiliated with any other historical group, society, organization, or business.
If you have any questions, please feel free to connect with us on various social networks: Facebook, Twitter, or Google+.
Exploring Oklahoma History is a labor of love for the great state of Oklahoma.
Labor omnia vincit
Exploring Oklahoma History is dedicated in loving memory to our co-founder,
Carleta Latham
(we love and miss you)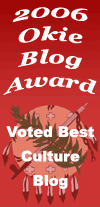 BlogOklahoma.us:
2006 Okie Blog Award Winner Best Culture Blog
The okie blog awards are established by, and decided by and for, oklahoma bloggers exclusively. they are intended for our blogging peers to recognize and honor the excellence of diversity by bloggers within the state through popular nominating and voting.
Details