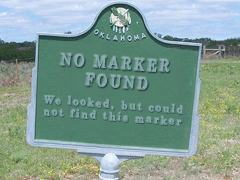 Spanish Road Crossing
The Spaniards developed the first-known trail in Oklahoma. Deep, indelible ruts were cut into the prairie by heavily laden wooden carts. Known as the Great Spanish Road to Red River, it connected Santa Fe and Natchitoches. The real beginning of highway construction was under Governor Holloway with Alvin Moore as State Senator.
Directions
on Hwy 283 north of Sayre **
Regions
Maps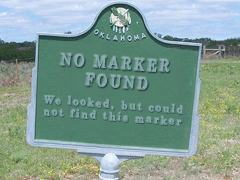 ** Information from Oklahoma Historical Society.
We've searched for this marker but could not find it.