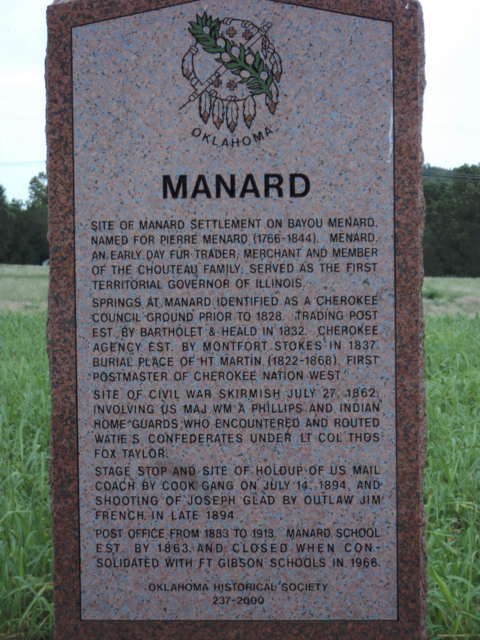 Manard
Site of Manard settlement on bayou menard. Named for Pierre Menard (1766-1844). Menard, an early day fur trader, merchant and member of the Chouteau family, served as the first territorial governor of Illinois.

Springs at manard identified as a Cherokee council ground prior to 1828. Trading post est. By Bartholet & Heald to 1828. Cherokee agency est. By Montfort Stokes in 1837. Burial place of ht martin (1822-1868). First postmaster of cherokee nation west.

Site of Civil War skirmish july 27, 1862, involving us Maj. WM A Phillips and indian home guards who encountered and routed Watie's Confederates under lt Col Thos. Fox Taylor.

Stag stop and site of holdup of US Mail coach by Cook gang on july 14, 1894 and shooting of Joseph Glad by outlaw Jim French in late 1894.

Post office from 1883 to 1913. Manard school est by 1863 and closed when consolidated with Ft. Gibson schools in 1966.
Directions
North side of Highway 62 approx. seven miles east of Ft. Gibson. East of the intersection of Manard Rd and Highway 62 just west of the community of Zeb.
Regions
Maps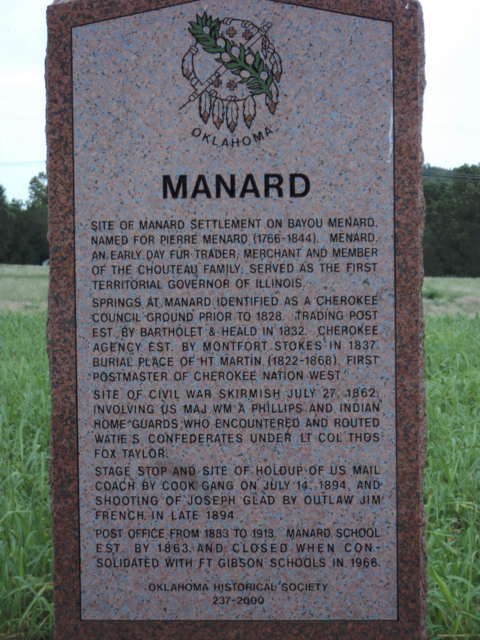 * Thanks to Wayne Groom for sharing this marker